Minty Fudge Oat Bars
Day 4 of the 12 Days of Christmas Treats! I have a feeling you are going to love these minty fudge oat bars. I wasn't entirely sure that mint, chocolate and oatmeal would go well together, but once I got the  idea for these bar cookies in my head, I couldn't get it out. I've made similar cookies in the past, without the mint, but I thought the mint might make a nice Christmasy addition. And I'm so glad I tried it because we absolutely loved these bars. They are so soft and rich. The minty fudge layer ends up being a great accompaniment to the chewy oatmeal cookie part. If you are a fan of mint and chocolate together, I have a feeling you will love these as much as we did. A word of warning though – you may want to give people a heads up that these are mint flavored, or they may be a little surprised when they try them. : )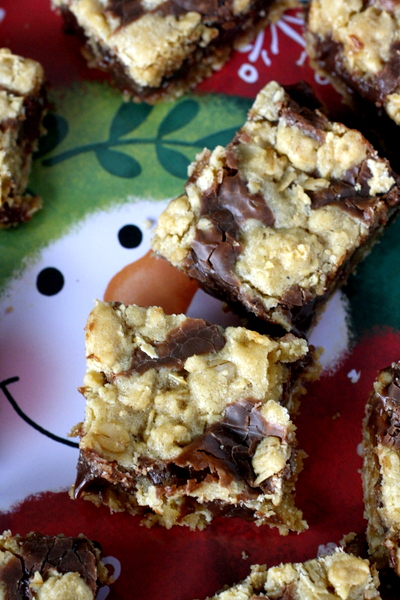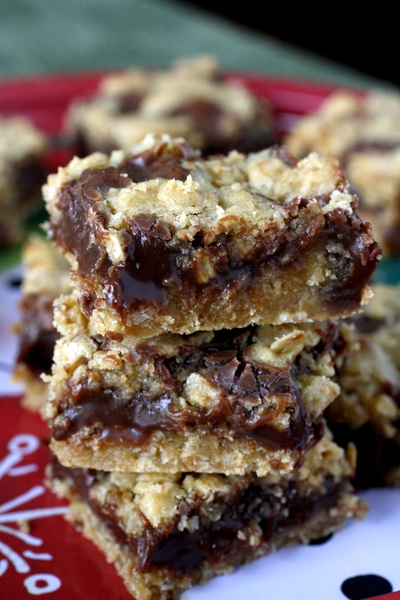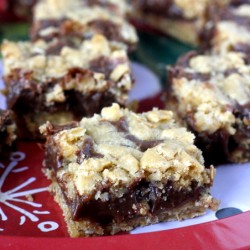 Minty Fudge Oat Bars
Ingredients:
For the cookie:
1 cup unsalted butter, at room temperature
1 1/4 cups brown sugar
3/4 cup granulated sugar
2 eggs
1 tsp vanilla
2 cups flour
2 tsp baking powder
1/2 tsp salt
2 cups old fashioned oats
For the mint chocolate filling:
1 (14 ounce) can sweetened condensed milk
1 10-oz bag Andes creme de menthe baking chips
3 Tbsp butter
pinch of salt
1 Tbsp vanilla
Directions:
Preheat the oven to 375. Lightly grease a 9x13 pan and set aside.
In a mixing bowl, cream together the butter, sugars, eggs and vanilla. In a separate bowl, combine the flour, baking powder and salt. Gradually add the flour mixture to the mixing bowl and beat just until combined. Fold in the oats. Press 2/3 of the dough into the bottom of the prepared pan and set aside.
Make the filling: In a medium sized saucepan stir together the sweetened condensed milk, baking chips, and butter. Cook over medium heat, stirring frequently, until smooth. Remove from heat and stir in salt and vanilla. Spread over top of the oatmeal cookie crust. Dot with remaining oatmeal cookie dough.
Bake for 30-35 minutes, or until the top is lightly browned. Let cool completely before cutting.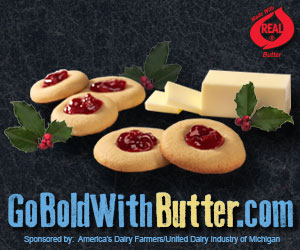 This post was sponsored by the United Dairy Industry of Michigan as part of their Go Bold with Butter campaign.  Be sure to follow their Pinterest page to find more recipes featuring real butter!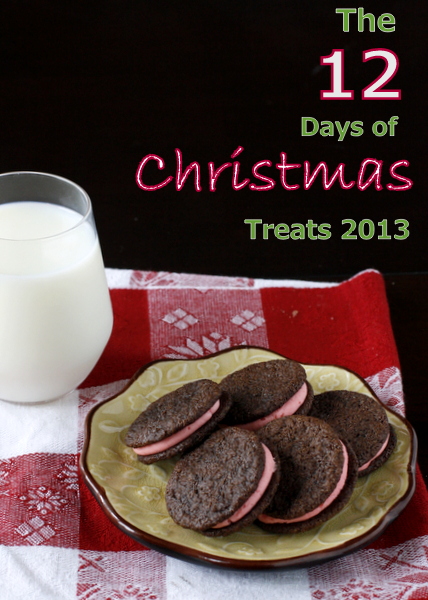 Click to see the rest of the 12 Days of Christmas Treats 2013. Or check out all of the previous Christmas treats l've posted.