Crock Pot Salsa Verde Chicken Tacos
I've got another easy crock pot recipe to share with you today! These crock pot salsa verde chicken tacos are incredibly easy to make, and they taste delicious! I love recipes that involve dumping all the ingredients in a slow cooker and forgetting about them for a few hours.

In this dish, chicken is simmered with a variety of spices and plenty of salsa verde, making it nice and tender and full of flavor. We combined the chicken with some cheese and sour cream to make quick and easy chicken tacos, but this would be equally delicious over rice or used as the base for any number of Mexican dishes. I hope you like this one – it's too easy not to give it a try!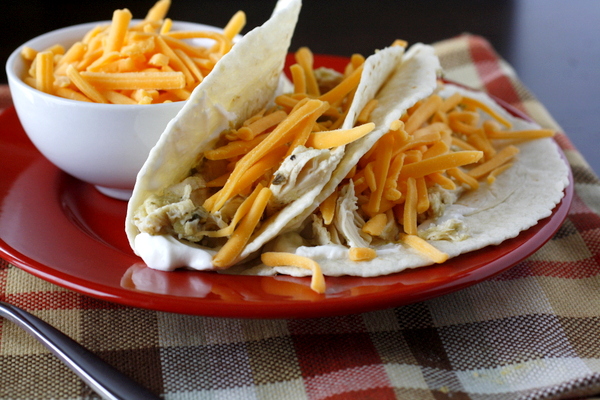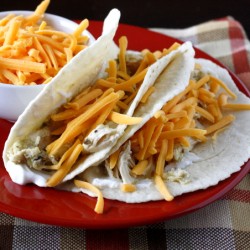 Crock Pot Salsa Verde Chicken Tacos
Ingredients:
1.5 lbs raw skinless chicken tenders
1/4 tsp garlic powder
1/8 tsp oregano
1/8 tsp ground cumin
salt, to taste
16 oz salsa verde
tortillas, sour cream, and cheese, for serving
Directions:
Season chicken with garlic powder, oregano, cumin and salt and place in the bottom of the slow cooker. Cover with salsa verde. Cover and cook on high 2 hours, or until chicken is cooked through.
Shred the chicken with 2 forks and mix with the liquid remaining in the crock pot. Serve on tortillas with sour cream and cheese.