Easy Salsa Chicken Chili
Meet my new favorite chili recipe! I've made this salsa chicken chili twice now, and it's actually on the menu plan for next week as well. I've got to get all my favorite soups in the menu rotation while the weather is still cold. 🙂 I made this chili on a whim one day when I was searching recipes to use up some ingredients I had on hand, and the recipe actually comes from an old Apples of Gold cookbook I've had around the house for years. I had all the ingredients I needed and immediately started chopping up some peppers for this delicious chili. Mike and I both loved this recipe, and I actually served it (plus chipotle turkey chili) at Zeke's Winter "One"derland birthday party.
The chili has a great flavor from the salsa and seasonings, and once you stir in some sour cream and cheese, it becomes nice and creamy. You can change up the spice level and flavor by playing around with different salsas, and it's easy to customize it to your own preferences. I hope you love this chili as much as we do – you can't go wrong with a nice easy recipe that tastes this good!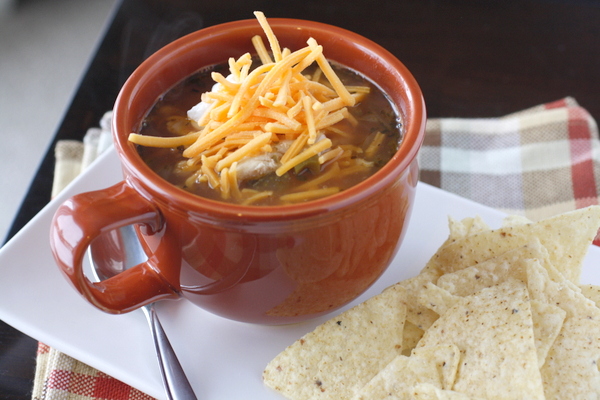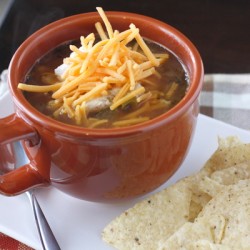 Easy Salsa Chicken Chili
Ingredients:
1 Tbsp olive oil
1 medium onion, chopped
1 cup celery, chopped
1 green pepper, chopped and seeded
1 48-oz jar great northern beans, drained and rinsed
1 tsp cumin
1 1/2 tsp oregano
1/4 tsp pepper
1 16oz jar salsa
4 cups chicken broth
3-4 cups cooked chicken, diced
Cheese, sour cream, and tortilla chips - for serving
Directions:
In a stock pot, saute the onion, celery, and green pepper in the olive oil over medium-high heat.
Add the cumin, oregano and pepper and mix well.
Add the salsa, chicken broth, chicken, and beans.
Bring to a boil, then reduce heat to low and simmer, covered, for 1-2 hours.
Serve with cheese, sour cream, and tortilla chips.