Quick and Easy Chicken Enchiladas
Don't these quick and easy chicken enchiladas look good? I've been making this recipe for years, and I can't believe I've never shared it on the blog before! The recipe actually comes from a professor I had in college. After I graduated, she used to have a few girls who lived in the area over for dinner a few times a month, and I learned a lot about cooking and hospitality from her. This was one of her classic recipes, and I've been making it ever since she taught me how easy (and delicious!) it was.
The "sauce" is cooked in the microwave, but if you prefer, it's just as easy to do it on the stove. The enchilada filling is a blend of chicken, salsa, cheese, and chicken broth and the end result is full of flavor and wonderfully cheesy.  I love how quick this recipe is to make, and it always makes enough for leftovers. I hope you try it and like it as much as we do. 🙂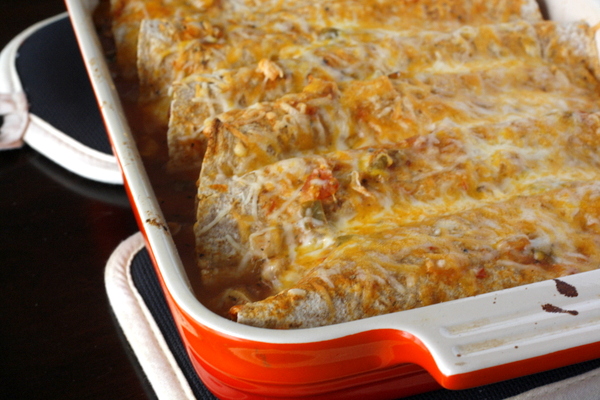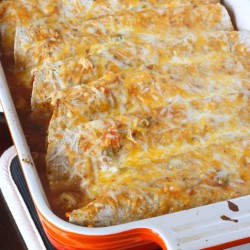 Quick and Easy Chicken Enchiladas
Ingredients:
1 onion, chopped
1 jar of salsa
1 can chicken broth
1 tsp oregano
1 tsp cumin
2-3 cups sharp cheddar cheese, divided (I also like to use the Mexican blend)
2 cups chopped cooked chicken
1 package flour tortillas, fajita size
Directions:
Spray a 9x13 baking dish with non-stick spray and set aside.
In a large, microwave-safe bowl, mix together the onion, salsa, chicken broth, oregano and cumin. Cover the bowl with saran wrap and microwave for 5 minutes. Stir in chicken and half of the cheese. Evenly divide the mixture among the tortilla shells, rolling them and placing them face down in the pan. (I find it easiest to use a slotted spoon to get as much as the chicken/vegetables as I can into the tortillas, leaving much of the juice behind). Pour the leftover juice on top of the enchiladas and sprinkle with the remaining cheese.
Bake at 425 for 15 minutes, or until heated through.