Strawberries and Cream Dessert Bars
When it comes to flavor combinations, strawberries and cream just might be one of my absolute favorites. So naturally, when I saw these strawberry and cream dessert bars on pinterest, I knew I had to make them as soon as possible. I ended up using Father's Day as my excuse, and it came as no surprise that everyone completely loved them. These rich and creamy dessert bars have a sugar cookie crust, a cream cheese and white chocolate center, and a sweet strawberry topping. They really do taste like strawberries and cream! I've made similar desserts in the past (strawberry pizza and mini fruit pizzas come to mind), but these strawberries and cream dessert bars stand out from the rest. I'm pretty sure it's the white chocolate filling that takes them over the top. I hope you give these dessert bars a try this summer – they make the perfect potluck dessert!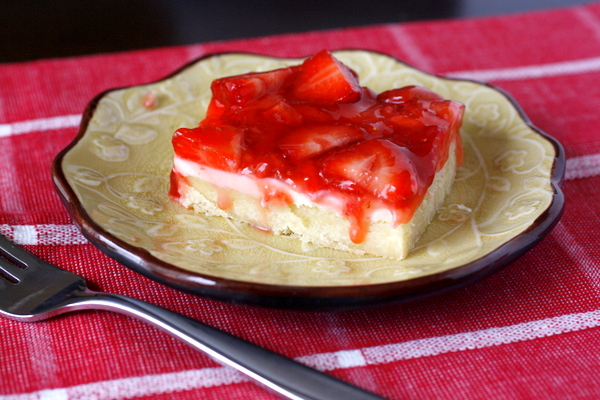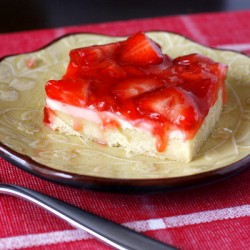 Strawberries and Cream Dessert Bars
Ingredients:
Crust:
1 pouch Betty Crocker Sugar Cookie Mix
1/2 cup butter (1 stick), softened
1 egg
Filling:
1 8-oz package cream cheese, softened
1 cup white chocolate chips
Topping:
3 cups sliced fresh strawberries
1/2 cup sugar
2 Tbsp cornstarch
1/3 cup water
Directions:
Preheat oven to 350° F. Spray the bottom of a 9x13 inch baking pan with non-stick spray and set aside.
In a large bowl, mix together the cookie mix, butter and egg until a soft dough forms. Press dough into the bottom of the baking pan. Bake for 15-20 minutes or until light golden brown. Remove from oven and let cool completely.
In a small, microwave-safe bowl, microwave white chocolate chips at 50% power for 1-2 minutes, stirring every 30 seconds until melted and smooth. In a medium-sized bowl, beat cream cheese with an electric mixer until smooth. Stir in the melted chocolate chips. Spread over the cooled sugar cookie crust and refrigerate while making the topping.
In a small bowl, crush 1 cup of the strawberries. In 2-quart saucepan, add the 1 cup of crushed strawberries, sugar, cornstarch and water. Cook over medium heat, stirring constantly, until mixture boils and thickens. Remove from heat and let cool 10 minutes. Gently fold in remaining strawberries. Spoon over the filling. Cover and refrigerate 1 hour or until set.
Looking for more strawberry recipes? Click the pictures to see the recipes!
 

Fresh Strawberry Spinach Salad

 

Strawberry Summer Cake

 

Strawberry Lemonade