Fresh Strawberry Spinach Salad
I made this fresh strawberry spinach salad for our Memorial Day picnic yesterday and I'm pretty sure it's going to be my go-to salad recipe for the rest of Summer. I love the combination of spinach, strawberries and toasted pecans, but I think the homemade poppy seed dressing is the best part. This recipe is healthy and easy and perfect for pretty much any Summer get together.  I'm actually planning to keep the dressing on hand so I can make this salad for myself for lunch during the day. I hope you try it and like it as much as we do. 🙂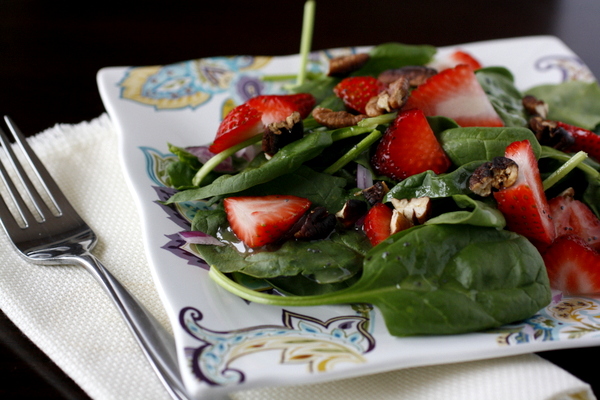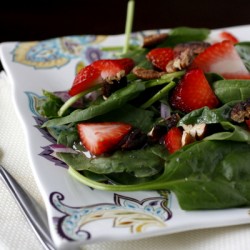 Fresh Strawberry Spinach Salad
Ingredients:
1/4 cup rice vinegar
2 Tbsp sugar
2 tsp poppy seeds
1/2 tsp dry mustard
Salt and freshly ground pepper
3/4 cup canola oil
6 cups baby spinach leaves
2 cups strawberries, hulled and sliced
1/4 cup thinly sliced red onion
1/4 cup pecans, toasted and coarsely chopped
Directions:
In a small bowl, whisk together the vinegar, sugar, poppy seeds, dry mustard, and a pinch each of salt and pepper. Whisking constantly, slowly add the oil, and continue to whisk until the vinaigrette is well combined.
In a large bowl, toss together the spinach, strawberries, onions, and pecans. Add half of the vinaigrette and toss gently. Add more vinaigrette as needed to lightly coat the ingredients.
Serve immediately.
from Cooking from the Farmer's Market