S'mores Cookie Bars
These are SO GOOD! Seriously, that is the only possible way I could start this post, because you need to make these as soon as possible. Anything with s'mores in the title is OK by me (except, weirdly enough, actual s'mores), and if you add the word "cookie", I'm pretty much guaranteed to love it. If you feel the same way, then you've got to try these. The actual cookie base is made with graham cracker crumbs, which makes the bars incredibly soft and chewy. And of course there are plenty of chocolate chips and swirls of marshmallow cream to complete the s'mores effect. Everyone who tried these absolutely loved them, and I had to give lots away to keep from eating them all myself. If you're looking for a way to enjoy s'mores without the campfire, I hope you try these. I am positive you will love them!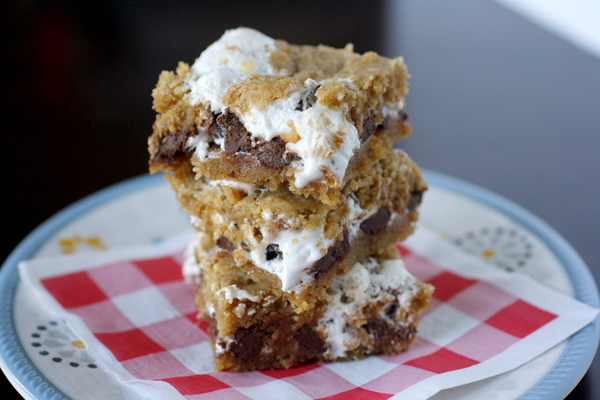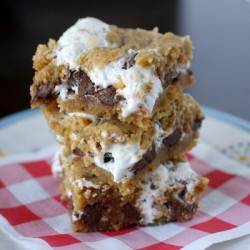 S'mores Cookie Bars
Ingredients:
2 cups all-purpose flour
2 cups crushed graham cracker crumbs
1 tsp baking powder
1/4 tsp salt
16 Tbsp (2 sticks) butter, softened
1 1/2 cups packed light brown sugar
1 tsp vanilla
2 large eggs
2 cups marshmallow creme
2 cups semisweet chocolate chips
Directions:
Preheat the oven to 350 degrees F. Grease a 9X13 pan and set aside.
In a medium bowl, whisk together the flour, graham cracker crumbs, baking powder and salt. In a large bowl, cream the butter and sugar until light, about 2 minutes. Beat in the eggs and vanilla until well combined. Reduce the mixer speed to low and add the flour mixture, mixing until just combined.
Divide the dough in half, pressing half into the bottom of the prepared pan. Dollop the marshmallow topping on top of the cookie base and gently spread into an even layer. Sprinkle the chocolate chips on top. Scatter the remaining dough over the top in clumps. (It's OK if some of the marshmallow creme and chocolate chips show through).
Bake 30-32 minutes, or until golden brown. Cool completely before cutting.