Pumpkin Oatmeal Cookies with White Chocolate Chips
I've got so many great pumpkin recipes to share with you, and this recipe for pumpkin oatmeal cookies with white chocolate chips is a great place to start!  I loved these cookies, and so did everyone I shared them with. They are full of pumpkin spice flavor and are nice and chewy. The oatmeal gives them a little bit of extra texture and keeps them from becoming "cake-y" like so many pumpkin cookies. In fact, these stayed soft and chewy for days, and were even delicious after being frozen. I love the combination of pumpkin and white chocolate and couldn't get enough of these cookies. Everyone who tried them absolutely loved them, so I think you can count on these being a hit wherever you take them. 🙂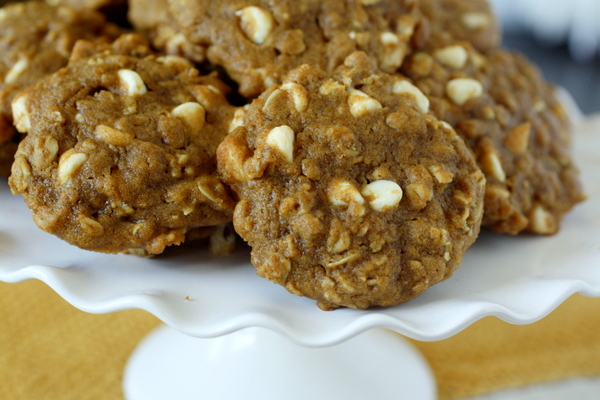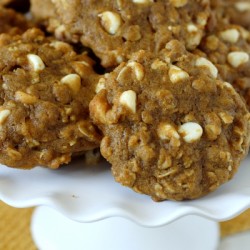 Pumpkin Oatmeal Cookies with White Chocolate Chips
Yield: Makes about 24 cookies, depending on size
Ingredients:
2 cups + 1 Tbsp all-purpose flour
1 tsp baking soda
1 Tbsp ground cinnamon
1 tsp pumpkin pie spice
1/2 tsp salt
1 1/2 cups old-fashioned rolled oats
1 cup unsalted butter, melted
1/4 cup molasses
3/4 cup brown sugar
1/2 cup granulated sugar
1 egg yolk
3/4 cup pumpkin puree
1 tsp vanilla extract
1 1/2 cups white chocolate chips
Directions:
Preheat the oven to 350 degrees. Line two baking sheets with parchment paper and set aside.
In a large bowl, whisk together the flour, baking soda, cinnamon, pumpkin pie spice, and salt. Stir in the oats.
In a separate bowl, whisk together the melted butter, molasses, brown sugar, and granulated sugar, then whisk in the egg. Add the pumpkin and vanilla and mix until thick and completely combined. Pour into dry ingredients and gently mix until just combined. Stir in the white chocolate chips. The dough will be very thick.
Scoop cookie dough (~2 Tbsp for each cookie - I like to use my cookie scoop) onto prepared baking sheets. With wet hands, slightly flatten the dough to help the cookies spread in the oven.
Bake the cookies for 13-15 minutes until very lightly browned on the edges, but still soft in the centers. Allow the cookies to cool completely on the baking sheets. Store in an airtight container.