Pumpkin and White Bean Soup with Cheesy Toasts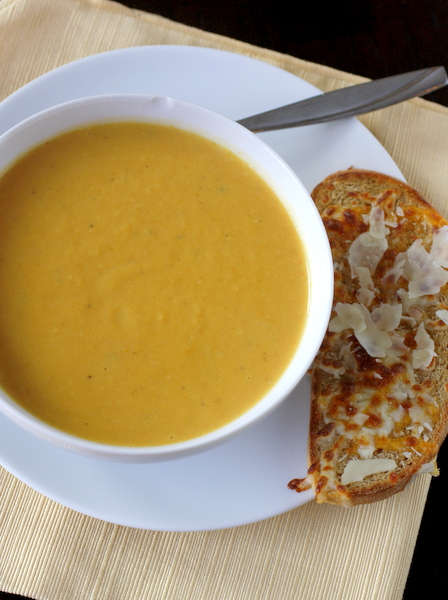 I have a great fall recipe to share with you today. I wrote about this pumpkin and white bean soup on Facebook a few weeks ago, and ever since then I've been excited to share the recipe. I made this soup on somewhat of a whim just because I had all the ingredients in my cupboard. I honestly didn't think Mike would like it all that much,but it seemed like a recipe worth trying.   And I'm so glad I did try it, because we both ended up loving it! This pumpkin and white bean soup surpassed all my expectations – I think it tastes like something you would order in a fancy restaurant. You definitely need to make the cheesy toasts as well. They were perfect for dipping in the soup, and the combination of the cheesy toast and soup made a delicious dinner. I recommend you try this one – you'll be glad you did. 🙂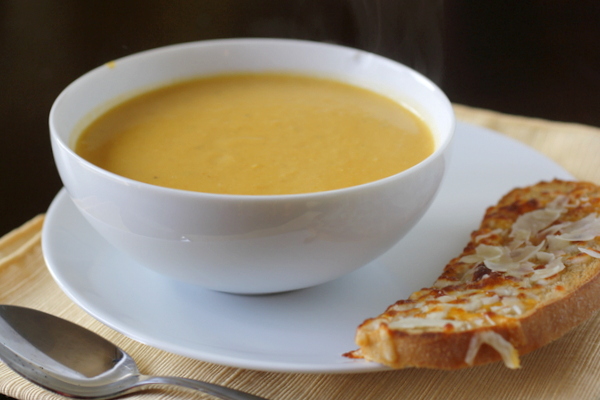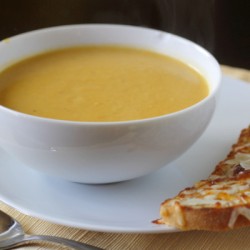 Pumpkin and White Bean Soup with Cheesy Toasts
Ingredients:
2 1/2 Tbsp butter
1 medium yellow onion, diced
5 cloves garlic, smashed
1 tsp dried sage
1/4 tsp cumin
2 1/2 cups chicken broth
1 15 oz can white beans, drained and rinsed
1 15 oz can pumpkin puree
1/3 cup heavy cream
1 Tbsp apple cider vinegar
1/2 tsp freshly ground black pepper
1 tsp sea salt, or to taste
For the toasts: thinly sliced bread, shredded cheese (I used Mozzarella and Parmesan), olive oil
Directions:
Heat a large pot over medium heat. Add the butter, onion, and garlic sauté for 8-10 minutes or until onion is softened. Add the sage and cumin, and stir to combine. Slowly add the chicken broth and heat for a few more minutes, scraping any brown bits off the bottom of the pot. Add in beans and pumpkin. Purée with an immersion blender until very smooth. Add salt and pepper to taste and bring to a simmer. Let soup simmer for 10-15 minutes. Stir in the vinegar and heavy cream before serving.
Make the toasts: Set the oven to broil. Place the bread on a baking sheet. Cover generously with cheese, drizzle with olive oil, and sprinkle with a bit of pepper. Place under the broiler for 2-3 minutes until melted. Watch carefully so they don't burn.