Blueberry Muffin Cake
Just when I think I'v e made all the blueberry recipes I could ever hope to try, another one jumps out at me. That's the case with this absolutely delicious blueberry muffin cake!  I saw a picture of this cake on Pinterest and immediately wanted to try it. Perfect timing, since I had just gone blueberry picking and had fresh berries just waiting to be baked with. 🙂
The blueberry muffin cake was everything I hoped it would be – soft and tender cake, crunchy crumb topping, and a perfectly sweet glaze on top! By itself the cake isn't overly sweet, and it really does taste like blueberry muffins.
The sweet and crunchy topping and the vanilla glaze are what turn this cake into something special. I'm actually not a huge fan of blueberry baked goods (I make lots of them though because Mike loves them!), but I would eat this cake just for the topping – it's that delicious! 🙂 You can use frozen berries in this recipe as well, so if it's not still blueberry season where you are you don't have to miss out.
I served this cake as dessert after dinner, but I think you could also pass it off as a breakfast coffee cake. Yum! Try this one before summer is over – you're going to love it!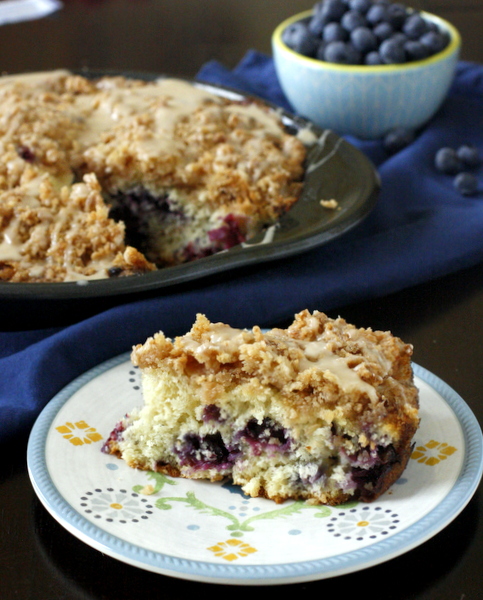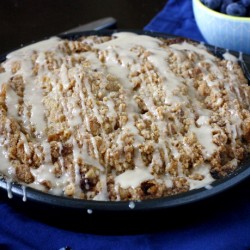 Blueberry Muffin Cake
Yield: Serves 8
Prep Time: 15 minutes
Cook Time: 45 minutes
Total Time: 60 minutes
Ingredients:
Crumb Topping
3/4 cup granulated sugar
1/3 cup plus 3 tablespoons all-purpose flour
3/4 tsp ground cinnamon
6 Tbsp butter, room temperature
Cake
2 cups all-purpose flour
3/4 cup granulated sugar
1/4 cup butter, room temperature
3/4 cup milk
1 egg
2 1/2 tsp baking powder
3/4 tsp salt
2 cups fresh blueberries
Glaze
1/2 cup powdered sugar
1/4 tsp vanilla
1 tsp milk
Directions:
Preheat the oven to 375°F. Spray a 9" cake pan with nonstick spray and set aside.
Make the crumb topping: In a medium bowl mix together the sugar, flour and cinnamon. Using a fork or pastry cutter, cut in the butter until well blended. Set aside.
Make the cake: In a large bowl combine the flour, sugar, butter, milk, egg, baking powder, and salt. Mix together until mostly smooth. Gently fold in the blueberries. Spread the cake batter into the prepared pan and top evenly with the crumb topping. Bake for 45-55 minutes, or until a toothpick inserted in the center comes out clean. Let cool before adding the glaze.
Make the glaze: Mix all the ingredients together until smooth and then drizzle on top of the cooled cake.