Molasses Ginger Cookies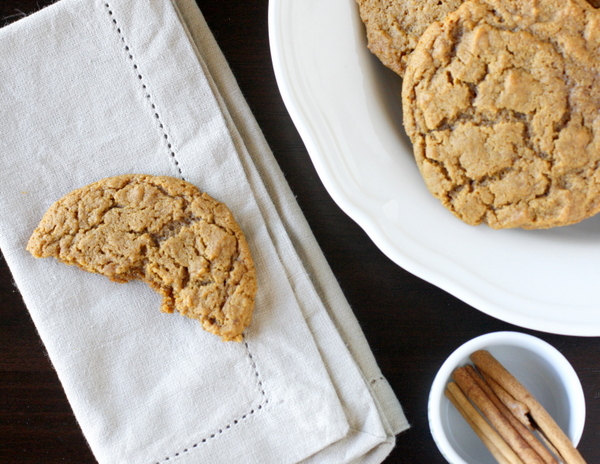 I found these molasses ginger cookies on Pinterest sometime during the Fall and just knew they would make it into my Christmas line-up.  If you look back through the years you'll notice that I tend to post a new molasses ginger cookie every year (spoiler alert – this year I have two!), but I can honestly tell you that this is my favorite of the ones I've posted so far. It's just so classic. The flavor is perfect and the cookie itself is soft and chewy. It's a great cookie to transition from Fall to Winter.
I got the recipe from A Sweet Spoonful, and if you check out her site you'll notice that her cookies are much thicker than mine. I don't know if I did something wrong, but I made these 2-3 times and every time they turned out like you see in the pictures here. I'm not complaining however, because Mike and I both absolutely loved these cookies.
Whether they turn out fat and puffy or thin and chewy, it doesn't matter. I recommend these spicy cookies either way. 🙂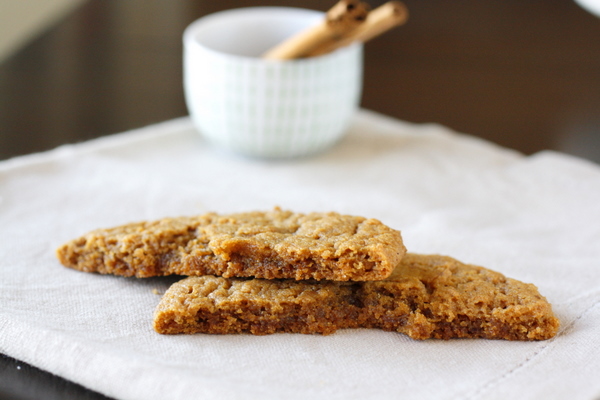 P.S. You can see all of my Christmas treat recipes from over the years at this Christmas Cookies tag. Enjoy! And, as always, let me know if you try any and how you liked them.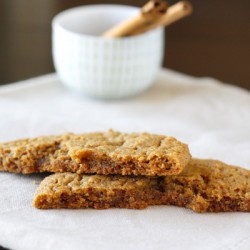 Molasses Ginger Cookies
Ingredients:
2 sticks unsalted butter, softened
2 cups brown sugar
1 large egg
3/4 cup molasses
3 1/4 cups bread flour
1 tablespoon baking soda
1/2 teaspoon salt
1 teaspoon cinnamon
3/4 teaspoon ground cloves
3/4 teaspoon ground nutmeg
1 1/2 teaspoons ground ginger
Directions:
Preheat the oven at 350 F.
In the bowl of a stand-mixer or in a separate bowl using electric beaters, cream the butter and sugar until well combined, about one minutes. Then add the egg and molasses and mix until just combined, 20-30 seconds. Add all of the dry ingredients and mix until just incorporated (don't overmix here).
Using a large tablespoon or ice cream scoop* portion out roughly 2 ounce balls and place on a parchment-lined cookie sheet.
Bake for 12-15 minutes until the tops and edges are golden brown and slightly crackled. The very center can remain slightly soft and even just a tad jiggly. When the cookies cool, they will firm up, leaving the inside and center wonderfully soft.