Twix Cookies
These twix cookies have a shortbread cookie, caramel filling, and chocolate topping – just like a twix candy bar!
How cute are these Twix cookies? If you love Twix candy bars then these cookies are for you! They are the perfect combination of shortbread, caramel, and chocolate. Just typing that out makes me want to make more of these – yum!!
It goes without saying that they are delicious, but I also love how pretty they are – cute little round cookies with yummy layers of candy on top. And believe it or not, they really do taste just like a Twix candy bar!
I made these for my Christmas cookie trays this year and they are almost always the first ones to disappear when I set them out! I guess people just love the flavor of Twix. 🙂 Plus how fun is it to have a cookie version of a classic candy bar? I might try this with all my favorite candy bars!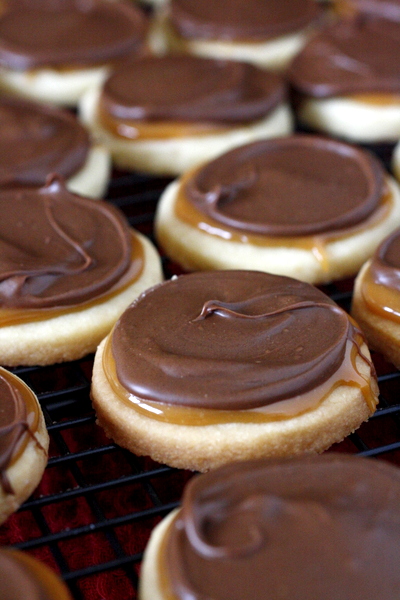 Just like their candy counterparts, these cookies consist of three layers – a shortbread cookie on the bottom, creamy caramel in the middle, and chocolate on top. Yum!! Each layer is easy to make, and the only time consuming part is spreading the caramel and chocolate on each cookie. It's worth it though, when you end up with a small army of delicious Twix cookies. 🙂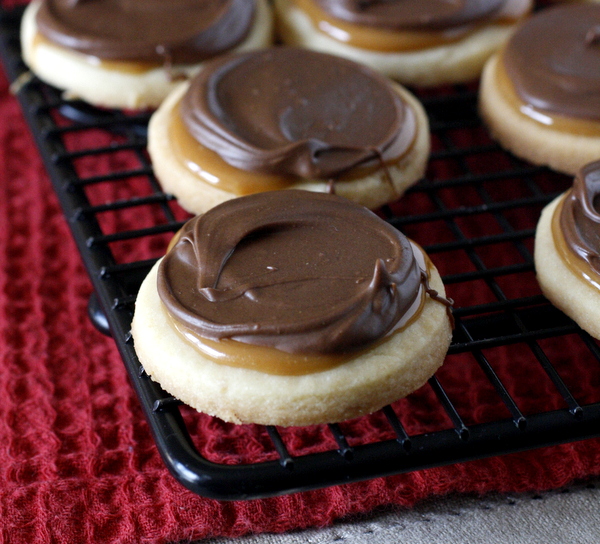 We couldn't stop eating these – they are crunchy and creamy and sweet and delicious. Plus, they look really pretty on a cookie tray!
If you like Twix candy bars, you need to try these cookies – you will love them!
See this link for comments from bakers who tried and LOVED this recipe on Pinterest!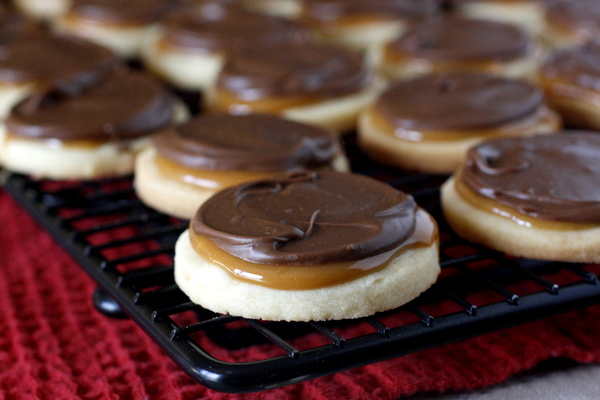 Twix Cookies are day 4 of the 12 Days of Christmas Treats! I will post a new cookie every day for the first 12 days of December. You can see all these recipes from over the years under my Christmas Cookies tag. 🙂 See all of this year's cookies here: 12 Days of Christmas Treats 2015. Enjoy! And, as always, let me know if you try any and how you liked them.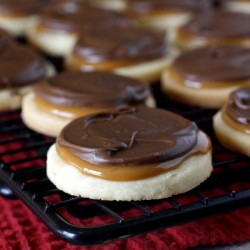 Twix Cookies
Yield: Makes about 36 cookies
These twix cookies have a shortbread cookie, caramel filling, and chocolate topping - just like a twix candy bar!
Ingredients:
Cookie:
1 1/2 cups unsalted butter, softened
1 cup powdered sugar
1 tsp vanilla
3 cups flour
3/4 tsp salt
Caramel layer:
15 oz of caramel (I used Kraft caramel bits)
2 Tbsp evaporated milk
Chocolate layer:
2 cups milk chocolate chips
2 tsp shortening
Directions:
Make the cookies: Preheat oven to 350 degrees F. In a large bowl, cream butter and sugar together. Add vanilla, flour and salt and mix until well combined.
On a lightly floured surface, roll the dough out to 1/2 inch thick. With a small biscuit cutter, cut out cookies and place on a cookie sheet lined with parchment paper or a silicone liner. Bake for 14-16 minutes, or until cookies are set and just beginning to brown on the bottom. Remove from oven and let cookies cool completely.
Combine caramel and evaporated milk in a microwave safe bowl and melt according to package directions. Spread over cooled cookies and let set.
In a small microwave safe bowl, melt chocolate chips and shortening in 30 second increments, stirring in between each increment until melted and smooth. Spread over the tops of cooled caramel.
Let chocolate set before eating and serving.