Popovers
You don't need a special pan for this simple popover recipe! These light and crispy popovers are made in a muffin pan and make a great breakfast or teatime treat!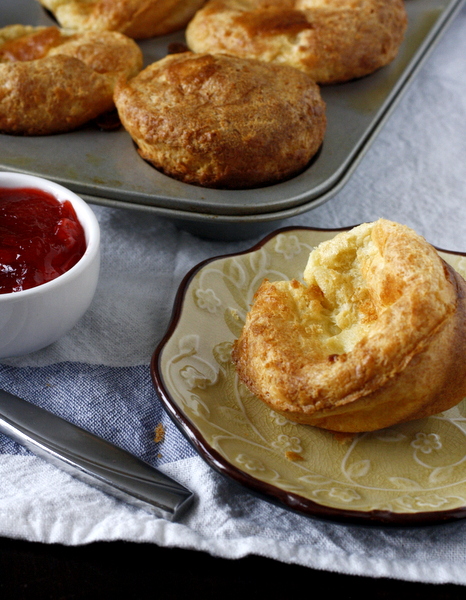 You will love this simple popover recipe! They are perfectly light and delicious, and so easy to make.
Popovers are hollow rolls / biscuits made with an egg batter. They puff up in the oven and become airy and crispy and delicious. They are called popovers because they "pop over" the sides of the pan as they bake. And yes, I had to look that up after Zeke asked why they are called popovers. 🙂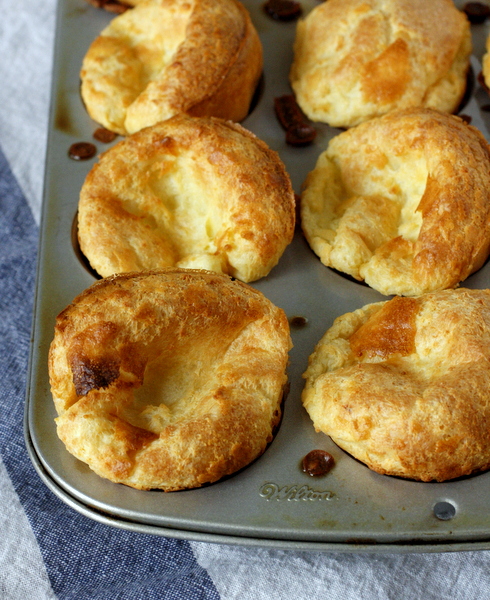 I've been wanting to try making popovers at home for years now. I can't believe it took me this long to get around to it because it turns out they are so simple to make! And they are so good that we now have a new weekend tradition.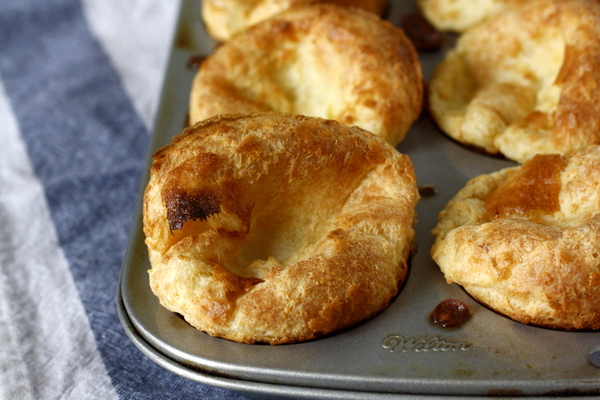 A few years ago Mike and I took a kid-free vacation to Bar Harbor, Maine and Acadia National Park. We had a great time hiking, biking, and exploring, but one of the things I most remember from the trip is the amazing food we had. I'm pretty sure we had some form of lobster for almost every meal! After the lobster, however, the food we most enjoyed was the famous popovers from the Jordan Pond House.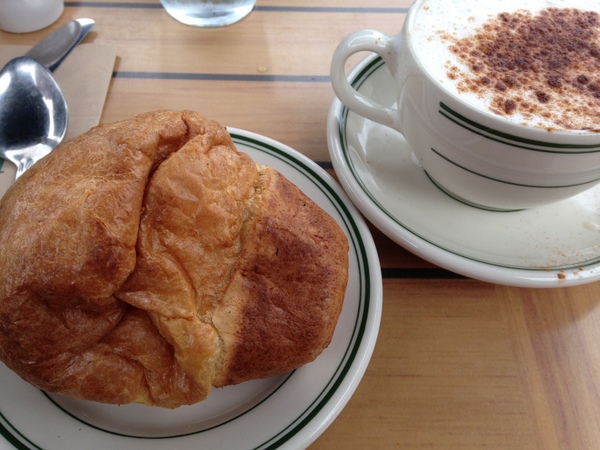 Jordan Pond House is a cute little tea shop in the middle of the park. They are famous for their popovers (look how big they are!), so of course we had to try one! We definitely enjoyed our popovers (with butter and strawberry jam!), and I came home wanting to try to make popovers at home. It took me a few years, but I'm glad to report that it's super easy to make delicious popovers in your own kitchen!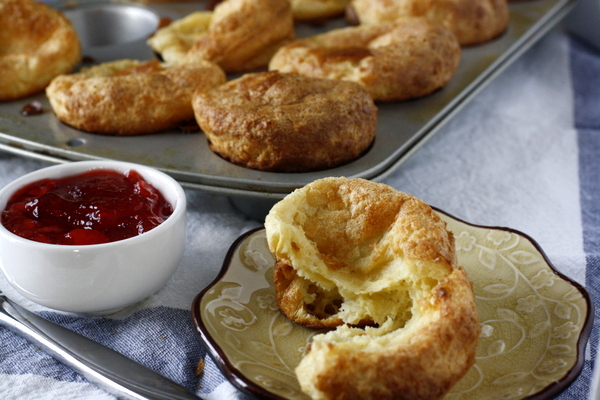 I love that you don't need a special popover pan to make these. All you need is a normal muffin pan and a few simple ingredients. We ate these fresh out of the oven with butter and strawberry jam, and they were absolutely delicious! Seriously, we couldn't stop eating them and I already made them again this weekend. Best of all, they aren't unhealthy, so I don't even feel bad feeding them to the kids! All 3 boys loved these, and Emma looked on sadly because she isn't old enough to eat real food yet. 🙂
Please give these a try – they have already become a new weekend tradition!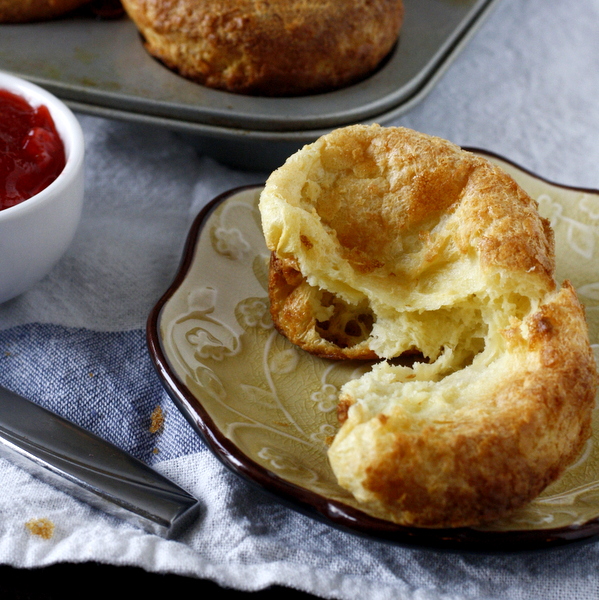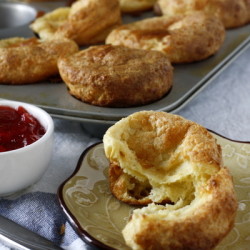 Popovers
Yield: Makes 12 Popovers
Prep Time: 5 minutes
Cook Time: 35 minutes
Total Time: 40 minutes
You don't need a special pan for this simple popover recipe! These light and crispy popovers are made in a muffin pan and make a great breakfast or teatime treat!
Ingredients:
4 large eggs, warmed in a cup of hot water for 10 minutes before cracking
1 1/2 cups milk, lukewarm
1/2 teaspoon salt
1 1/2 cups all-purpose flour
3 Tablespoons melted butter
Directions:
Preheat the oven to 450°F.  You want your oven to be at 450 before you start making the popover batter. Position a rack on a lower shelf so that the top of the risen popovers is about midway up the oven. 

Use a standard 12-cup metal muffin tin. Grease the pan thoroughly, making sure to cover the area between the cups as well.

Whisk together the eggs, milk, and salt until well combined. 

Add the flour all at once, and beat with a wire whisk till frothy; there shouldn't be any large lumps in the batter, but smaller lumps are OK. 

Stir in the melted butter, combining quickly.

Pour the batter into the muffin cups, filling them about 2/3 to 3/4 full.

Bake the popovers for 20 minutes without opening the oven door. Reduce the heat to 350°F (again without opening the door), and bake for an additional 10 to 15 minutes, until they're a deep, golden brown. If the popovers seem to be browning too quickly, position an oven rack at the very top of the oven, and put a cookie sheet on it, to shield the popovers' tops from direct heat.

Remove them from the oven and stick the tip of a knife into the top of each, to release steam and help prevent sogginess. Slip them out of the pan, and serve immediately.