Chocolate Peppermint Cupcakes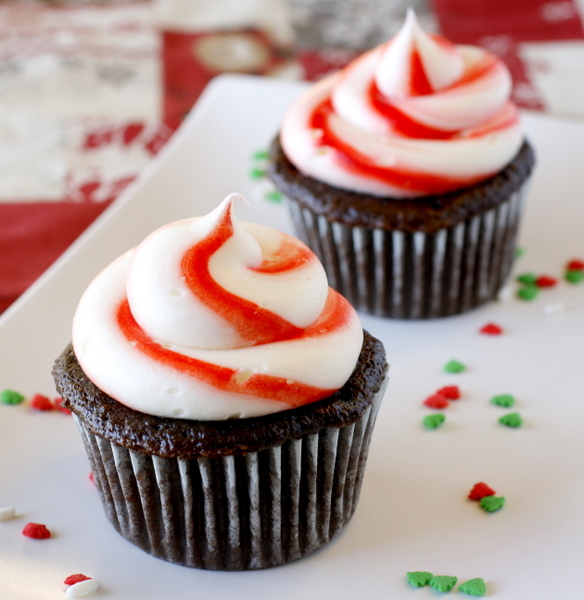 I seem to get all of my best ideas from Pinterest these days. I've made a resolution for the New Year to get back into my cookbooks, but in the meantime, I just can't let Christmas go by without sharing these cupcakes with you!  In my mind, chocolate and peppermint ranks right up there with some of the greatest food pairings, especially at Christmas! These cupcakes are melt-in-your-mouth good and definitely do justice to the chocolate/peppermint pairing. The chocolate cupcakes by themselves are delicious –  incredibly light and moist. I should know, because despite a self-proclaimed aversion to chocolate cake, I couldn't stop eating these! The peppermint icing is wonderful as well – thick, creamy, and with the perfect amount of peppermint flavoring.  Everyone who tried these raved about them and I predict they will become my go-to holiday dessert! If you scroll down to the bottom of the post, you'll see that I couldn't keep from making this recipe again already – this time as a pretty layer cake! 🙂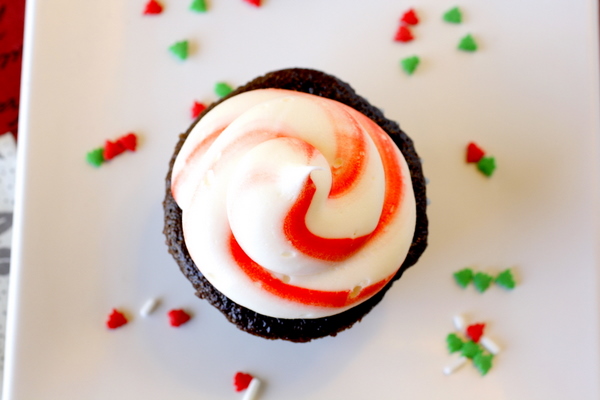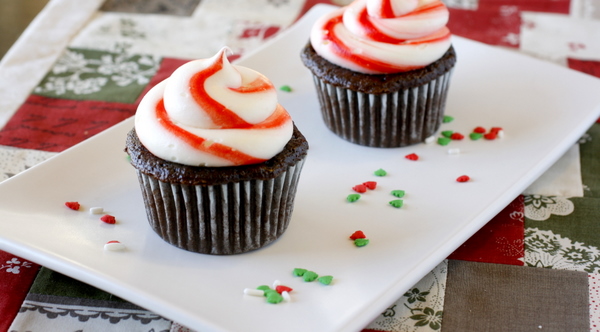 Chocolate Peppermint Cupcakes
Ingredients:
Cupcakes:
1 3/4 cups all-purpose flour
2 cups granulated sugar
3/4 cup Dark Cocoa Powder
2 teaspoons baking soda
1 teaspoon baking powder
1 teaspoon salt
2 eggs
1 cup strong black coffee
1 cup buttermilk, room temperature
1/2 cup vegetable oil
1 tablespoon pure vanilla extract
Peppermint Cream Cheese Icing:
1/2 cup (1 stick) butter, at room temperature
6 oz. cream cheese, at room temperature
4 cups powdered confectioners sugar
1 teaspoon pure peppermint extract
1/2 teaspoons pure vanilla extract
2 to 4 Tablespoons heavy cream
Directions:
For the cupcakes: Heat oven to 350 and line a muffin tin with 24 paper liners. In a large mixing bowl, stir together sugar, flour, cocoa, baking powder, baking soda and salt. Sift the dry ingredients into the bowl of electric mixer. Add the remaining ingredients to the bowl. With paddle attachment on mixer, mix for 2 minutes on medium speed (you may need the plastic splashguard that comes with mixer). The batter will be liquidy. Pour into prepared muffin tins, filling until tins are 2/3 full with batter. Bake cupcakes for approximately 22-24 minutes, or until tooth pick inserted into a center cupcakes comes out with moist crumbs. Cool completely on wire rack before frosting.
For the frosting: Place butter and cream cheese in the bowl of a stand mixer and blend until combined, about 30 seconds. Add powdered sugar, vanilla and peppermint extracts and blend on low speed until combined. Increase to medium speed and beat until it begins to get fluffy. Slowly add the heavy cream, a little bit at a time, until desired consistency is met. Beat on medium high speed until fluffy, about 1 minute.
To apply the frosting with a red stripe like you see above: Before filling a large piping bag with frosting, add some red gel food coloring to a toothpick, and draw three vertical lines with the red dye on the inside of the piping bag. Then carefully fill the piping bag with frosting. Squeeze some frosting into a bowl until you begin to see the red stripe, then frost the cupcakes. I used a large round tip from Ateco to pipe the ones you see here.