Winter Fruit Salad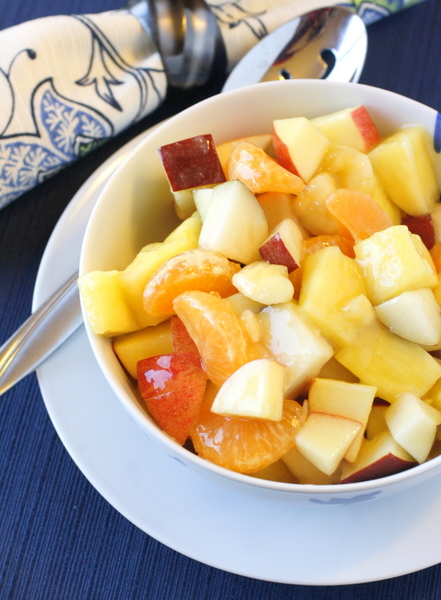 I realize I'm being fairly predictable by posting a healthy recipe for winter fruit salad right after the holiday season. But what can I say? I'm craving healthy food as much as the next person, and this recipe sounds really good right about now. In actuality, I made this fruit salad for Christmas morning brunch with my in-laws. I was asked to bring fruit, so I loaded up on what was on sale at the store and came home and googled something like "fruit salad winter orange juice". It sounds like a strange combination, but I'd heard that orange juice will keep bananas and apples from turning brown, so I was hoping to add some to my fruit salad.  The end result was a winter fruit salad with a light citrus dressing that adds a subtle sweetness but doesn't overpower the naturally good taste of the fruit. This recipe makes great use of the the in-season fruit this time of year and I'm pretty sure it will be my go-to recipe for future winter fruit salads.  I also froze some of the leftovers and it tastes great as a slushy fruit treat as well!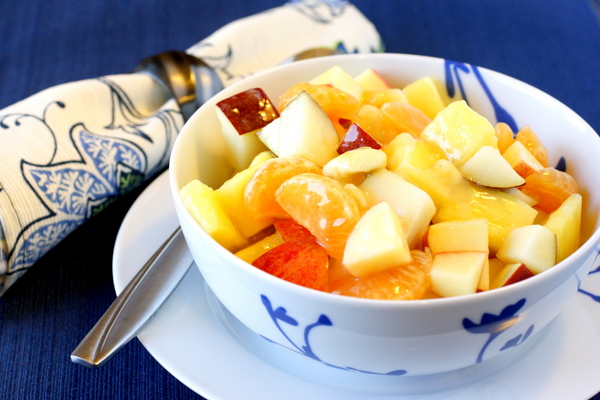 Winter Fruit Salad
Ingredients:
1 (20 ounce) can pineapple chunks in 100% juice
1/2 cup sugar
2 tablespoons cornstarch
1/3 cup orange juice
1 tablespoon lemon juice
4-5 clementines or 1 can (11 oz) mandarin oranges, drained
3 -4 apples, chopped
2 -3 bananas, sliced
2 pears, chopped
Directions:
Drain the pineapple, reserving 3/4 cup of pineapple juice. In a medium saucepan stir together the sugar, cornstarch, reserved pineapple juice, orange juice and lemon juice. Cook over medium heat until bubbling and slightly thickened, stirring occasionally. Once it starts to thicken, cook and stir one minute longer, then remove from heat and set aside.
Combine the fruit in a large bowl. Pour the warm sauce over the fruit and mix gently to coat the fruit with the sauce. Cover and refrigerate until ready to serve.
*Note: This recipe is easily adaptable. Use whatever fruit you like and feel free to modify the amounts.