Roasted Summer Vegetable Pasta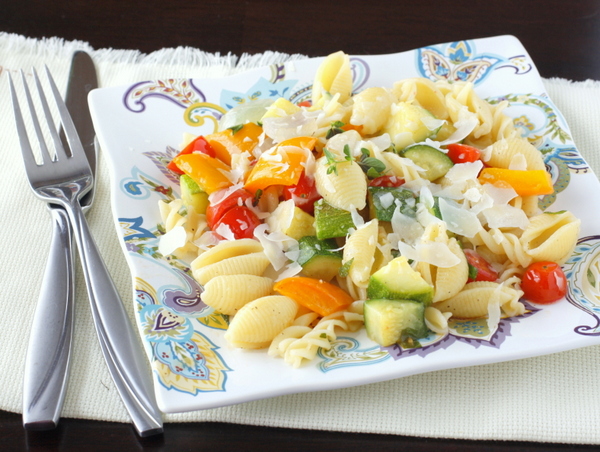 This is truly a great summer recipe. It's full of vegetables, it's quick to make, and it tastes fresh and delicious. We ate this for dinner one night, and as leftovers the second night and loved it both times. It's amazing what simple ingredients can do. The combination of olive oil, salt and pepper, and fresh Parmesan cheese is just perfect! Add in the fresh summer veggies and you have the perfect Summer meal. Next time I'm going to try this with grilled vegetables just to avoid heating up the house. This recipe is so simple and so tasty that I'm pretty sure it's going to become a weekly staple during the Summer months! Please try it and let me know if you agree. 🙂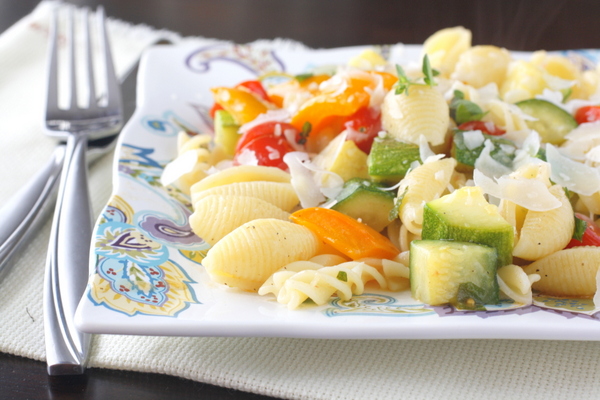 Roasted Summer Vegetable Pasta
Ingredients:
3/4 pound pasta
2 small zucchini, cut into 3/4 inch pieces
1 medium onion, cut into 1-inch pieces
1 orange or yellow bell pepper, cut into 1-inch pieces
8 cloves garlic, peeled
1/2 cup olive oil
Kosher salt and black pepper
1 pound cherry tomatoes, halved or quartered if large
1/4 cup fresh oregano leaves
Grated Parmesan, for serving
Directions:
Heat oven to 450. Cook the pasta according to the package directions. Reserve ½ cup of the cooking water; drain the pasta and return it to the pot.
Meanwhile, on 2 rimmed baking sheets, toss the zucchini, onion, bell pepper, and garlic with the oil, 1 teaspoon salt, and ½ teaspoon black pepper. Roast, rotating the sheets halfway through, until the vegetables are golden brown and very tender, 15 to 18 minutes.
Add the vegetables, tomatoes, and reserved cooking water to the pasta and cook over medium heat, tossing, until the liquid coats the pasta, 2 to 4 minutes. Add the oregano and toss to combine. Serve with the Parmesan sprinkled on top.