Chicken, Caramelized Onion, and Apple Pizza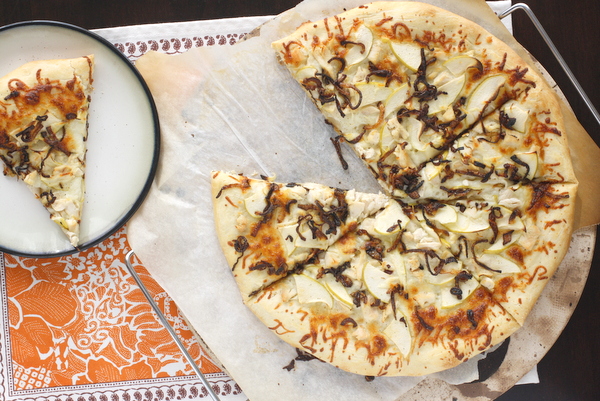 We love pizza around here. It is one of our favorite meals and we probably eat it once a week, whether homemade or take-out. A few weeks ago, I was looking for new recipes to use up some leftover chicken I had in the fridge, and this chicken, caramelized onion, and apple pizza caught my eye. It was such a unique flavor combination, and I was pretty excited about it. Thankfully it lived up to all my expectations. The caramelized onions give the pizza lots of flavor, and the apples provide a nice hint of sweetness that you wouldn't normally expect on a pizza. And of course, chicken is always a nice addition. 🙂 I loved this pizza, and other than the onions, this was very quick and easy to make. I was a little worried what Mike would think, but his exact words were "It's different, but I really like it!" I hope you like it too. 🙂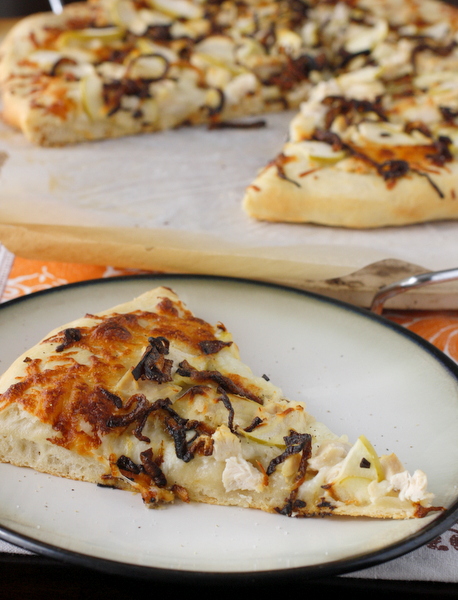 Chicken, Caramelized Onion, and Apple Pizza
Ingredients:
Unbaked pizza dough, at room temperature - enough for 2 10-inch pizzas (I used this pizza dough recipe)
2 Tbsp olive oil, plus extra to brush on the pizza crust
1 cup thinly sliced yellow onion (about 1 large)
1/4 tsp dried thyme
Kosher salt and freshly ground pepper
2 1/2 cups shredded mozzarella cheese
1 cup shredded cooked chicken
1 - 2 Granny Smith apples, cored and thinly sliced (amount depends on personal preference)
Directions:
Preheat the oven to 500 degrees.
In a large saucepan over medium heat, warm 2 Tbsp of oil until a few droplets of water sizzle when carefully sprinkled in the pan. Add the onion and thyme. Cook, stirring often, until soft and caramel colored, about 20-30 minutes. Season with salt and pepper to taste. Remove from the heat.
Roll out the pizza dough on parchment paper into 2 10-inch circles. Brush eash crust with olive oil and season with salt and pepper to taste. Sprinkle the cheese evenly across both crusts. Evenly spread the chicken, onions, and apples across the pizzas. Bake until the crust is golden brown and the toppings are hot, 10-12 minutes.