Homemade Conversation Hearts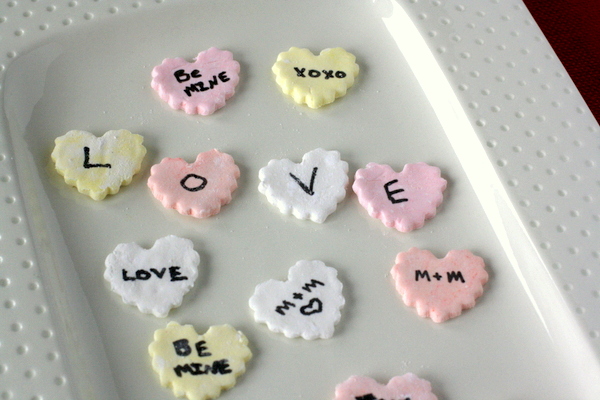 I had no idea you could make homemade conversation hearts until I saw a recipe in a recent magazine. I was immediately intrigued because the idea just seemed so fun! I always seem to end up buying a bag of conversation hearts every Valentine's Day, and this year I figured  why not make my own? These are very simple to make, although it does take some time to roll them out and cut them into pretty heart shapes. I love that you can make your own flavors with various extracts (I made vanilla, orange, lemon, and strawberry), and of course the best part is that you can write your own messages on them! I made mine slightly bigger than the original to make them easier to write on, and had fun writing out various messages with a food writer pen. As an added benefit, they actually taste really similar to traditional conversation hearts! These were a fun Valentine's Day treat and they would be very kid friendly as well!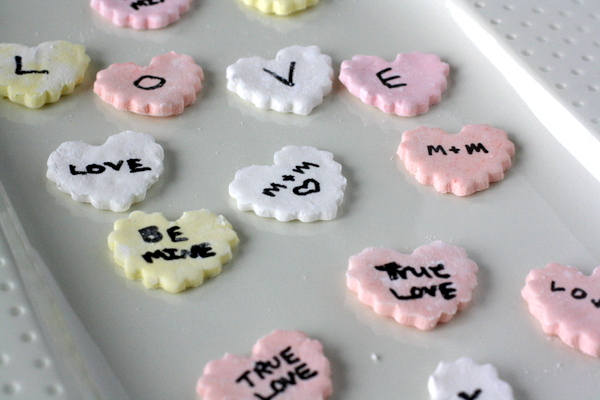 Homemade Conversation Hearts
Yield: Makes 50-70 hearts
Prep Time: 1 hour
Total Time: 1 hour
Ingredients:
1 1/4-ounce packet unflavored gelatin powder
1 tablespoon light corn syrup
1/2 teaspoon vanilla extract
1/8 teaspoon salt
2 pounds confectioners' sugar (about 8 cups), plus more for kneading
Assorted food coloring, for tinting
Assorted extracts (such as peppermint, strawberry or almond), for flavoring (optional)
Cooking spray
Food decorating pens, for writing
Directions:
In the bowl of a stand mixer, whisk the gelatin, corn syrup, vanilla, salt and 1/2 cup boiling water until the gelatin dissolves. Switch to the paddle attachment and beat in the confectioners' sugar on medium-low speed, 1 cup at a time, to make a stiff, sticky dough.
Transfer the dough to a clean surface and knead, adding more confectioners' sugar as needed (up to 1 cup), until the dough is smooth, pliable and slightly tacky, about 5 minutes.
Divide the dough into 4 pieces. Flatten 1 piece into a disk and cover the rest with plastic wrap. Add a few drops each of food coloring and extract to the center of the dough and knead until the color is distributed.
Lightly coat a large piece of parchment paper with cooking spray. Roll the dough out on the parchment until 1/8 to 1/4 inch thick. Cut into hearts using 1-inch cookie cutters and transfer to a parchment-lined baking sheet. Repeat with the remaining dough, using different colors and extracts. Let the hearts sit at room temperature, uncovered, until dry and hard, about 24 hours, flipping them halfway through. Write messages on the hearts using food decorating pens. Store in an airtight container for up to 1 week.
from Food Network Magazine