Crock Pot Candy
Have you ever tried to make candy in your crock pot? Until I tried this recipe, I had never heard of such a thing! But let me tell you, this stuff is so good, I think I'll be making candy in my crock pot every year. 🙂
This recipe is so easy to make that you have no excuse not to try it! Basically you dump three different kinds of chocolate in your slow cooker, add some peanuts, and turn it on. That's it! OK, you do have to stir every once in awhile. 🙂
But seriously, it's that easy. Drop by spoonfuls onto wax paper (or into some mini muffin liners if you're feeling fancy) and you've got some seriously delicious candy.
It is so rich and creamy, and full of sweet and salty flavors in every bite. Plus it makes a ton, so there is plenty to share with friends and family.
This crock pot candy is definitely going to be a new family tradition. We can't get enough of it!
*See all 12 days of Christmas Treats from 2014 here! 🙂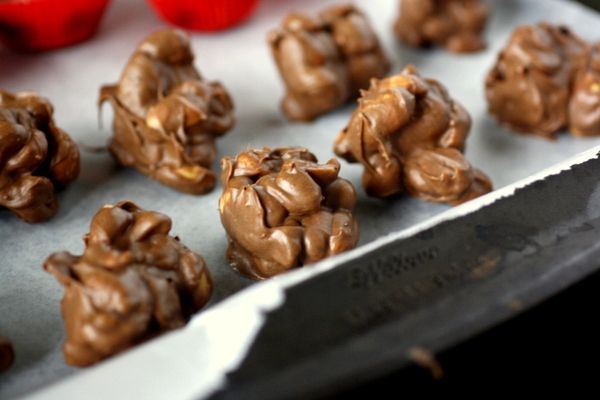 *Check out the delicious treats from previous years!   Hot Chocolate on a Stick | Chocolate Truffle Cookies | Triple Chocolate Cranberry Oatmeal Cookies | Homemade Peppermint Oreos
P.S. You can see all of my Christmas treat recipes from over the years at this Christmas Cookies tag. Enjoy! And, as always, let me know if you try any and how you liked them.
Crock Pot Candy
Ingredients:
2 pound white almond bark (I used this Ghirardelli melting chocolate)
4 ounces German chocolate bar (found in the baking aisle with the rest of the baking chocolate)
12 ounce bag semisweet chocolate chips
16 ounces unsalted dry roasted peanuts
16 ounces salted dry roasted peanuts
Directions:
Add all ingredients to slow cooker. Let cook on low for 1 hour, then stir to combine everything.
Allow to cook for another hour, stirring every 15 minutes.
Drop spoonfuls of the candy onto wax paper or into mini muffin liners and allow to cool completely.