Apple Cheddar Soup with Bacon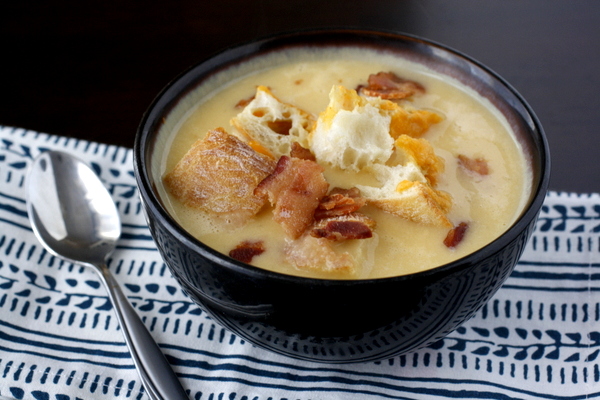 By now I'm guessing most of you know that I love soup. I'm always trying new soup recipes, and recently this recipe for apple cheddar soup with bacon caught my eye. I love cheese soups, and the combination of apple, cheddar and bacon sounded really interesting. This soup was really quick to make, which was good because I was in a huge rush to have this ready for dinner. It only took about 30 minutes, and the end result tasted great!  The apple flavor is very prounounced, and overall we both really liked this soup. It's creamy and cheesy with a surprising flavor twist from the apple. And of course, you can never go wrong with bacon.  Don't skip the cheesy croutons either – they were my favorite part. 🙂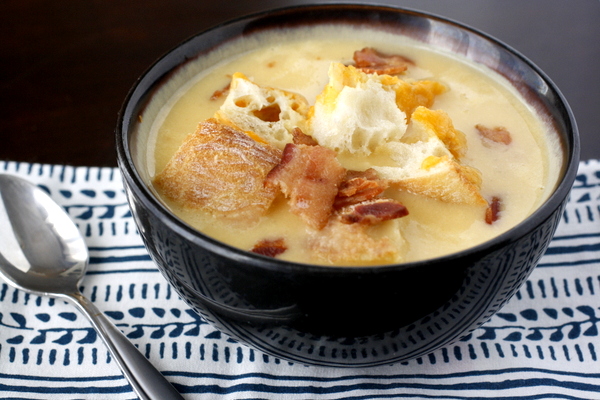 Apple Cheddar Soup with Bacon
Ingredients:
3 slices bacon
1 small onion, chopped
2 medium apples, peeled and chopped
1 large potato, peeled and chopped
3 cups low sodium chicken broth
1 1/2 cups unsweetened apple juice
Kosher salt and freshly ground pepper
2 cups shredded extra-sharp cheddar cheese (about 8 oz)
2 slices rye bread, toasted
2 tsp dijon mustard
chopped fresh chives, for topping
Directions:
Cook the bacon in a large pot over medium heat until crisp, then ransfer to paper towels to drain. Once cool, roughly chop and set aside. Pour out all but 2 tablespoons of the drippings from the pot.
Add the onion, apples and potato to the pot and cook over medium high heat, stirring frequently, until the apples are soft, about 8 minutes. Add the chicken broth, apple juice, 3/4 teaspoon salt, and pepper to taste. Bring to a simmer and cook until the potato is soft, 10 to 12 minutes. Remove from heat and stir in all but 2 tablespoons of the cheddar until melted. Using an immersion blender, puree until smooth. Season with salt and pepper.
Meanwhile, preheat the broiler. Spread the bread with the mustard and sprinkle with the reserved 2 tablespoons cheese. Broil until the cheese melts. Remove from oven and cut into 1-inch squares. Ladle the soup into bowls and top with the bacon, chives, cheese croutons and more pepper.
from Food Network Magazine, March 2013