Triple Chocolate Cranberry Oatmeal Cookies
Two cranberry cookies in one Christmas season is a big deal around here. I wasn't planning to make anything with cranberries since I didn't think Mike would be a big fan,  but thankfully he overcame his supposed cranberry aversion to talk about these cookies for days. Seriously, I gave him some in his lunch a few days in a row, and every day he came home talking about how much he loved these cookies. Even now he says they're his favorites that I've made this year! That's pretty amazing if you ask me. Although, I have to say it make sense, since these cookies are pretty amazing as well.
They are classic oatmeal cookies crammed full of chopped cranberries and three types of chocolate chips. Add a white chocolate drizzle on top, and you've got a classic cookie that's been turned into a wonderful Christmas treat.
You can bet that if Mike has anything to say about it I'll be making another batch of these triple chocolate cranberry cookies before Christmas. I hope you like them as much as we did! 🙂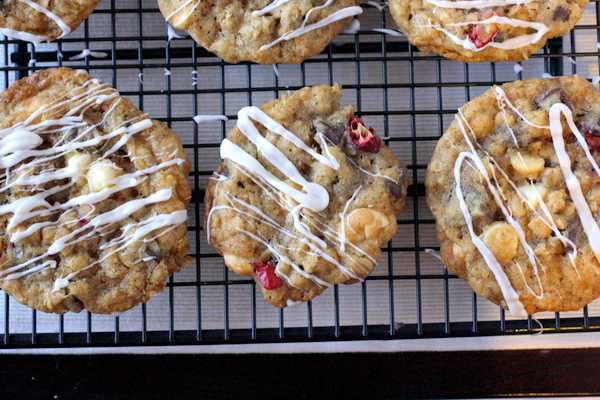 P.S. You can see all of my Christmas treat recipes from over the years at this Christmas Cookies tag. Enjoy! And, as always, let me know if you try any and how you liked them.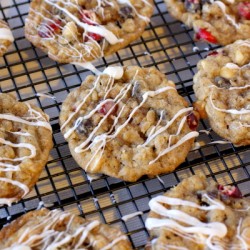 Triple Chocolate Cranberry Oatmeal Cookies
Ingredients:
1 cup all purpose flour
1/2 teaspoon baking soda
1/2 teaspoon cinnamon
1/4 teaspoon salt
10 tablespoons (1 1/4 sticks) unsalted butter, room temperature
1/2 cup sugar
1/2 cup (packed) golden brown sugar
1 large egg
1 teaspoon vanilla extract
1 cup old-fashioned oats
1/2 cup semisweet chocolate chips
1/2 cup milk chocolate chips
1/2 cup white chocolate chips
1/2 cup coarsely chopped fresh or frozen cranberries
2 ounces white chocolate, chopped (for drizzling)
Directions:
Preheat oven to 350°F. Line 2 large rimmed baking sheets with parchment paper. In a medium sized bowl, whisk together the flour, baking soda, cinnamon, and salt. In a large bowl, beat butter and both sugars until smooth. Beat in egg and vanilla. Add flour mixture and oats and stir until blended. Stir in all chocolate chips and cranberries.
Drop batter by rounded tablespoonfuls onto prepared sheets, 2 inches apart. Bake cookies, 1 sheet at a time, until edges are light brown, about 15 minutes. Cool on sheets 5 minutes, then transfer to a wire rack to cool completely.
Melt the chopped white chocolate and drizzle over the cooled cookies.