Turtle Biscotti
Better than store-bought, these old fashioned biscotti are topped with a chocolate drizzle, pecans, and caramel for a delicious crunchy treat!
Here we go with day 5 of the 12 Days of Christmas Treats! You are going to love these turtle biscotti.
I love to try different biscotti recipes around Christmas time, and haven't been disappointed yet! At the end of the evening, once Zeke is in bed, I love to make a cup of tea or hot chocolate, thaw a biscotti from the freezer, and relax. One of life's simple pleasures. 🙂 Plus, as I've mentioned previously, when we're visiting my parents for Christmas, my mom and I always eat biscotti as a little Christmas morning snack before the festivities start.
All that to say, I love biscotti, and I'm pretty sure you will love this chocolate, caramel and pecan version! They are full of delicious sweetness, and between the cookie and the toppings they have a great variety of textures. The cookies are nice and crunchy and perfect for dipping in a hot beverage (or in milk!), but they are not so crunchy that it hurts to eat them. 😉
The cookies are baked with little caramel bits right in the batter, and then topped with a chocolate drizzle, pecans, and then a little extra caramel for an added turtle effect. They are over the top and perfect for a Christmas treat! Although to be honest, I tend to make lots of biscotti around Christmas, then freeze them to pull out as a fun little treat during the rest of the winter. 🙂 If you like biscotti, you need to try this turtle version – they're delicious!
*See all 12 days of Christmas Treats from 2014 here! 🙂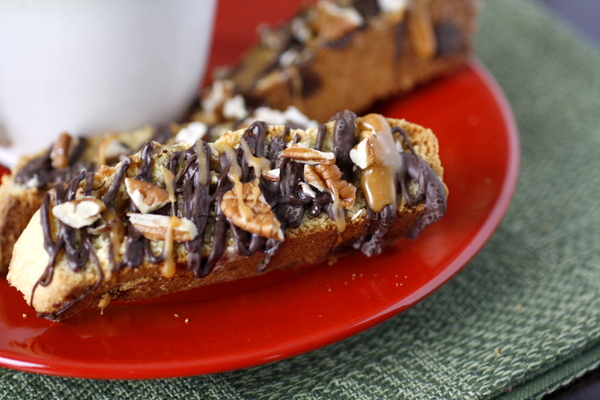 *Check out the delicious treats from previous years! Caramilk Fudge | Chocolate Covered Cookie Dough Pops | Hot Cocoa Cookies | Peanut Butter Nutella Swirl Cookies

*Note: If you're looking for more biscotti recipes, try these candy cane biscotti, cinnamon sugar biscotti, and double chocolate biscotti!
Turtle Biscotti
Better than store-bought, these old fashioned biscotti are topped with a chocolate drizzle, pecans, and caramel for a delicious crunchy treat!
Ingredients
6 Tbsp butter, softened
3/4 cup sugar
2 eggs
1 tsp vanilla extract
2 cups flour
1 tsp baking powder
1/2 cup Kraft caramel bits
1 1/4 cup chopped pecans, divided
1 cup dark chocolate chips, melted
Instructions
Preheat oven to 350. Line a baking sheet with parchment paper and set aside.
In a large mixing bowl, beat butter and sugar until creamy. Beat in eggs and vanilla until well mixed. Stir in flour and baking powder. Fold in caramel bits and 1/4 cup chopped pecans. Batter will be very sticky.
Divide dough in half, form each half in a 10 inch by 3 inch log the prepared baking sheet. (I put a little flour on my hands which helped a lot). Bake for 25-30 minutes. Remove and allow to cool on pan 10 minutes. Transfer to a cutting board and cut into 1-inch slices. Arrange slices upright back on the baking sheet. Bake an additional 15-20 minutes. Cool completely.
When cool, drizzle melted dark chocolate on one side of the biscotti and sprinkle with remaining cup of chopped pecans. Allow to set. Enjoy.
*Note: For a little extra "turtle" look, I melted some extra caramel bits in the microwave with a little bit of water and drizzled it on top of the biscotti.