Perfect Christmas Sugar Cookies
Day 12 of the 12 Days of Christmas Treats! I saved one of my very favorites for last. 🙂
I love sugar cookies – especially when they're soft and fluffy and covered in lots of icing. If that's the way you like sugar cookies, you will love these perfect Christmas sugar cookies!
Of course they can be made any time of year and cut into lots of different shapes, but I figured I'd call them Christmas sugar cookies since that is when we are most likely to make them. 🙂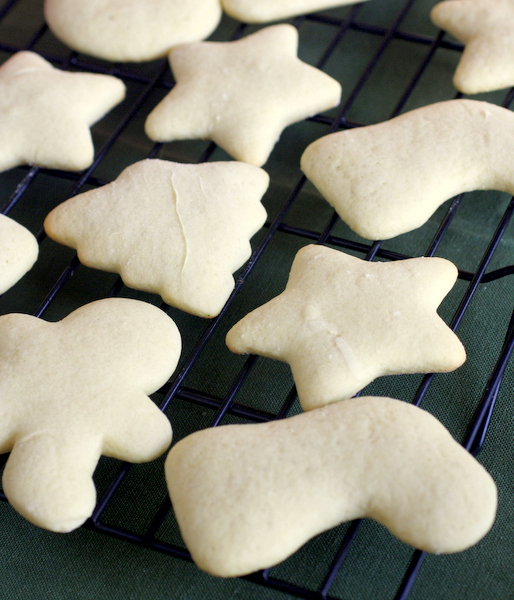 When I want a sugar cookie that tastes fantastic, this is my go-to recipe.  The cookies maintain their shape relatively well, but bake up incredibly soft and light. (If you are looking for a thinner cookie that stays flat and works for royal icing, try this recipe.)
They pair perfectly with the vanilla butter icing I've included here, and are sturdy enough to hold up to little hands attempting to frost them. (And to the same little hands wiping the frosting back off in order to eat it, not that I'm speaking from experience.)
These would be the perfect cookies to leave out for Santa, or for sharing with friends. I hope you enjoy them. 🙂
*See all 12 days of Christmas Treats from 2014 here! 🙂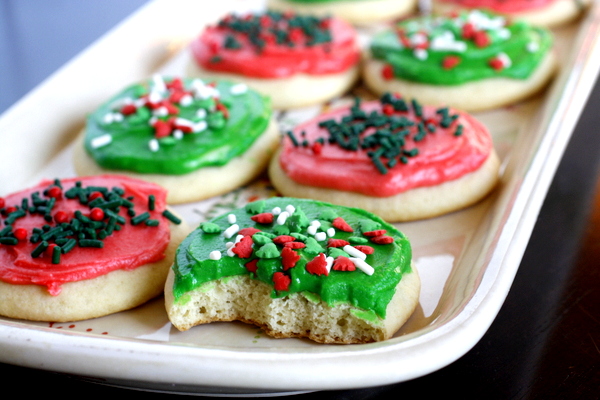 *Check out the delicious treats from previous years!  Thick and Chewy Gingerbread Cookies | White Chocolate Topped Gingerbread Cookies | Double Chocolate Biscotti | Gingerbread Whoopie Pies
P.S. You can see all of my Christmas treat recipes from over the years at this Christmas Cookies tag. Enjoy! And, as always, let me know if you try any and how you liked them.
Perfect Christmas Sugar Cookies
Ingredients:
Cookies:
1 cup sour cream
2 cups white sugar
1 cup butter
4 eggs
1 tsp vanilla or almond extract
6 cups flour
3 tsp baking powder
1 tsp baking soda
1 tsp salt
Vanilla Butter Frosting:
2/3 cup soft butter or margarine
6 cups confectioners' sugar
sprinkle of salt, optional
3 tsp vanilla
About 4 Tbsp milk or cream
Directions:
For the cookies:
Preheat oven to 350. Line cookie sheets with parchment paper and set aside.
In a large bowl, beat together the butter and sugar. Add in the sour cream, eggs, and vanilla and mix well. Add dry ingredients and mix until combined. Chill the dough in the fridge for 2 hours.
Roll out the dough 1/4 inch thick on a floured surface. Use cookie cutters to cut shapes. Transfer to prepared cookie sheets. Bake 10 minutes, or until light golden brown. They should appear just slightly underdone.
Let cool completely on the pan.
For the frosting:
Beat together butter, sugar, and the sprinkling of salt. Add in vanilla and 2 Tbsp milk.
Beat until frosting is smooth and of spreading consistency, adding more milk as needed.
Spread on cooled cookies.