Chopped Chicken Taco Salad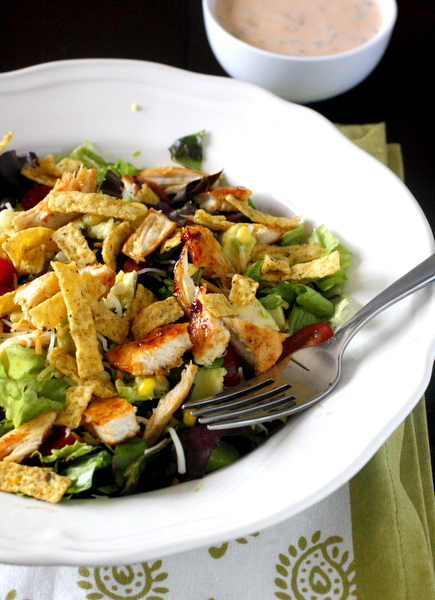 I am currently obsessed with chopped salads. I just love that everything is bite sized and you get a little taste of all the toppings in every bite. When the nice people at the United Dairy Industry of Michigan asked me to create a chopped chicken taco salad I immediately said yes.  I could just picture the fresh sweet corn, creamy avocado, cilantro dressing,  etc. And thankfully the end result turned out to be just as good as I was imagining. 🙂
We LOVED this salad. I started with fresh green leaf lettuce and covered it with all sorts of toppings. You can mix and match whatever toppings you wanted, but I used black beans, corn, avocado, tomatoes, shredded Mexican cheese, tortilla strips, and of course chicken. I seasoned the chicken with taco seasoning before I cooked it, and it was absolutely delicious. It had a very mild Mexican flavor that paired perfectly with the salad. Zeke agreed and gobbled up piece after piece as I was building the salad. 🙂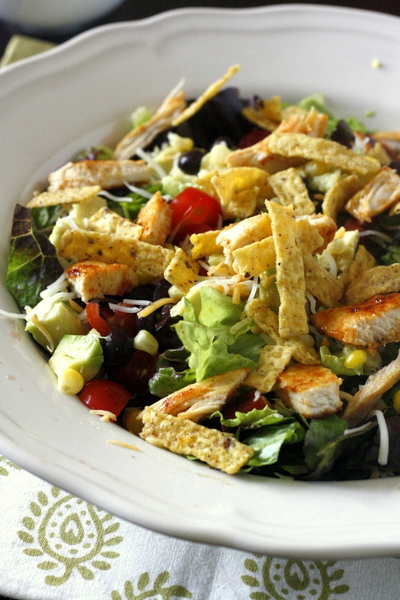 The best part, though, is the cilantro lime dressing! It's made with plenty of lime juice and cilantro, plus a little added taco seasoning to give it an extra kick. It was so good that I was dipping anything and everything into it – carrot sticks, peppers, tortilla chips, etc. 🙂 And I love that it's made with Greek yogurt and buttermilk so that it's actually fairly healthy and full of protein!
All in all this salad was completely delicious. You should know by now that I love recipes that are flexible and can be adjusted according to personal preference, and this is definitely one of those recipes. I have no doubt that you will love it too!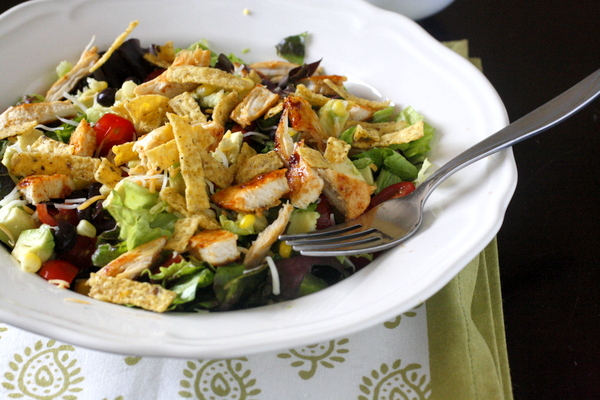 Chopped Chicken Taco Salad
Ingredients:
Dressing:
1 cup plain Greek yogurt
1/3 cup buttermilk
1 Tbsp fresh squeezed lime juice
3 Tbsp chopped cilantro
2 Tbsp taco seasoning
Salad:
2 pounds boneless skinless chicken breasts
2 Tbsp taco seasoning
2 Tbsp olive oil
1 head green leaf lettuce, chopped
1 avocado, chopped into bite sized pieces
1 cup black beans, drained and rinsed
1 cup corn
1 pint grape or cherry tomatoes, chopped
1 cup Monterrey Jack or Mexican shredded cheese
Tortilla Strips or crushed tortilla chips, for topping
Directions:
Make the dressing: Combine all ingredients in a small bowl and stir until well combined. Taste and adjust lime juice and cilantro as needed. If dressing is too thick, add in buttermilk a teaspoon at a time until correct consistency is reached. Refrigerate until ready to serve.
Make the salad: Season the chicken on both sides with the taco seasoning. Heat a large skillet over medium-heat heat and add the olive oil. Add chicken to the pan and cook on both sides until the outside is golden brown and the chicken is cooked through. Remove chicken to a cutting board and slice into strips.
To build the salad, heap the chopped lettuce on a large platter. Sprinkle the chicken over top. Add the avocado, beans, corn, tomatoes and shredded cheese. Drizzle the dressing on top and sprinkle on the tortilla strips or crushed tortilla chips. Serve immediately.
*Alternately, I like to build the salads on individual plates, letting each person make their own and add as much of the toppings as they want.
This post was sponsored by the United Dairy Industry of Michigan, but as always, all opinions are my own. I personally love working for UDIM because Milk is a local food, produced by hardworking Michigan farm families. That means cheese, yogurt and other dairy foods are local too! Follow UDIM on Facebook, Pinterest, YouTube, Instagram, and Twitter to find out why Milk Means More.