Blueberry Cobbler with Biscuit Topping
In this classic blueberry cobbler recipe, warm juicy blueberry filling is topped with fresh tender biscuits for the ultimate summer dessert!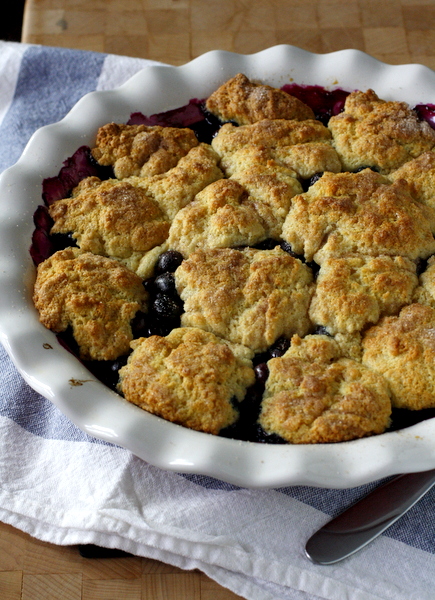 Blueberry cobbler is one of those desserts that just epitomizes summer. Fresh juicy blueberries play a starring role in this classic summer dessert!
This recipe comes from America's Test Kitchen so you know it's tried and true. They are the best at repeatedly testing a recipe until it comes out just the way they want it. As soon as I saw this recipe I knew I needed to try it, and everyone in my family was very thankful that I did. 🙂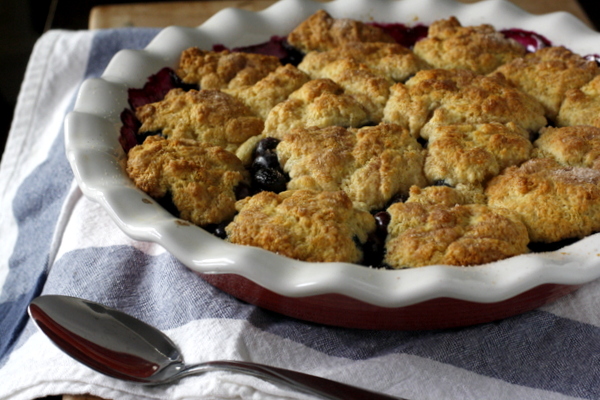 The blueberry filling is sweet and juicy and bursting with blueberry flavor. The recipe uses plenty of fresh blueberries and just a little bit of sugar and cinnamon for sweetness and flavor. That allows the blueberry flavor to really shine through. The topping is reminiscent of drop biscuits and adds a nice rustic touch to this classic recipe. The biscuits bake up to be light and tender with a little bit of cinnamon sugar crunch on top.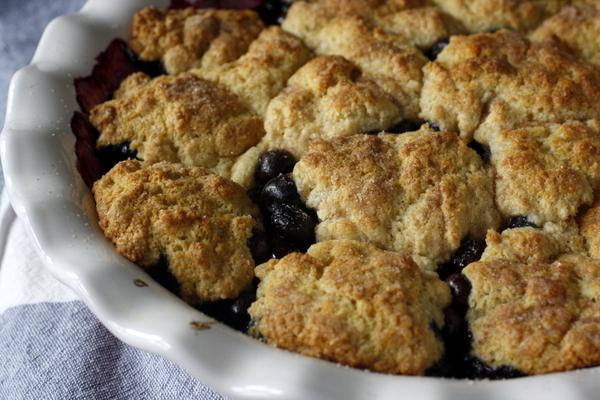 To make the recipe you make the blueberry filling first, and while it's baking you mix up the biscuit topping. Then you bake it all together for the last 20 minutes. This makes sure the filling is hot and bubbly and the biscuits are cooked through and browned on top. It's a little extra work to do it this way, but trust me when I tell you it's worth the effort! The biscuits are light and fluffy in the middle and crunchy on top and pair perfectly with the warm blueberry filling.
I didn't take a picture, but of course we served this with a scoop of vanilla ice cream on top! This is truly one of summer's classic desserts and I'm already dreaming of making this again with fresh picked blueberries this summer!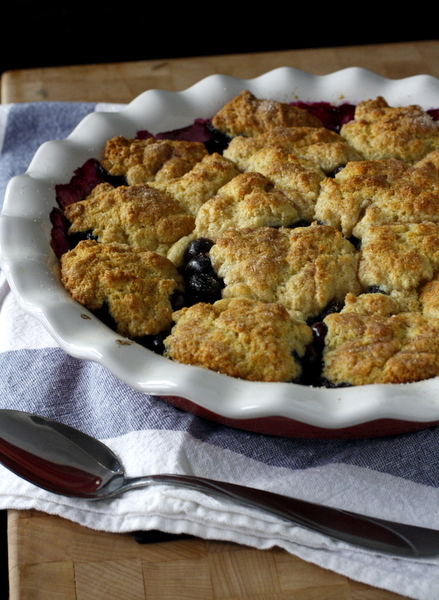 Yield: Serves 6-8
Blueberry Cobbler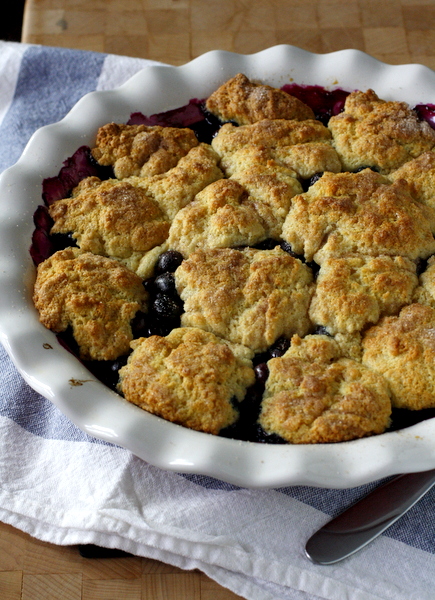 In this classic blueberry cobbler recipe, warm juicy blueberry filling is topped with fresh tender biscuits for the ultimate summer dessert!
Ingredients
Filling:
1/2 cup (3 1/2 ounces) sugar
1 tablespoon cornstarch
Pinch ground cinnamon
Pinch salt
6 cups (30 ounces) fresh blueberries, rinsed and picked over, or 36 ounces (about 6 cups) frozen berries (see recipe variation below)
1 1/2 teaspoons grated zest and 1 tablespoon juice from 1 lemon
Biscuit Topping:
1 cup (5 ounces) unbleached all-purpose flour
2 tablespoons stone-ground cornmeal
1/4 cup (1 3/4 ounces) plus 2 teaspoons sugar
2 teaspoons baking powder
1/4 teaspoon baking soda
1/4 teaspoon salt
4 tablespoons (1/2 stick) unsalted butter, melted
1/3 cup buttermilk
1/2 teaspoon vanilla extract
1/8 teaspoon ground cinnamon
Instructions
Adjust an oven rack to the lower-middle position and heat the oven to 375 degrees.
For the filling: Stir the sugar, cornstarch, cinnamon, and salt together in a large bowl. Add the berries and mix gently with a rubber spatula until evenly coated; add the lemon zest and juice and mix to combine. Transfer the berry mixture to a 9-inch glass pie plate, place the pie plate on a rimmed baking sheet, and bake until the filling is hot and bubbling around the edges, about 25 minutes.
For the biscuit topping: Meanwhile, whisk the flour, cornmeal, 1/4 cup sugar, baking powder, baking soda, and salt in a large bowl to combine. Whisk the melted butter, buttermilk, and vanilla together in a small bowl. Mix the remaining 2 teaspoons sugar with the cinnamon in a second small bowl and set aside. One minute before the berries come out of the oven, add the wet ingredients to the dry ingredients; stir with a rubber spatula until just combined and no dry pockets remain.
To assemble and bake the cobbler: Remove the berries from the oven; increase the oven temperature to 425 degrees. Pinch off 8 equal pieces of biscuit dough and place them on the hot berry filling, spacing them at least 1/2 inch apart (they should not touch). Sprinkle each mound of dough with cinnamon sugar. Bake until the filling is bubbling and the biscuits are golden brown on top and cooked through, 15 to 18 minutes. Cool the cobbler on a wire rack 20 minutes and serve.
source: America's Test Kitchen
Notes
Variation with Frozen Blueberries:
Thawed berries shed a lot of flavorful liquid that must be reduced to a syrup on the stovetop before baking.
Thaw 36 ounces (about 6 cups) frozen blueberries (preferably wild) in a colander set over a bowl to catch the juices. Transfer the juices (you should have about 1 cup) to a small saucepan; simmer over medium heat until syrupy and thick enough to coat the back of a spoon, about 10 minutes
Follow the recipe for Blueberry Cobbler, mixing the syrup with the berries and other filling ingredients, increasing the baking time for the berry mixture to 30 minutes, and increasing the biscuit baking time to 20 to 22 minutes.