Make-Ahead Sausage Egg Breakfast Bake
This hearty make-ahead breakfast casserole is a delicious combination of eggs, cheese, bread, and sausage – perfect for a stress-free breakfast option!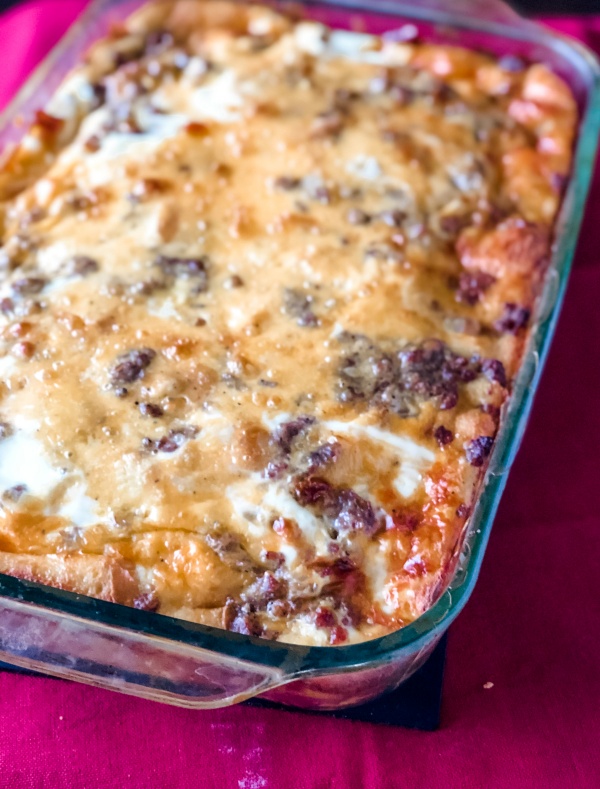 If you are looking for the perfect breakfast casserole for the upcoming holidays, I have the perfect recipe to share with you! I first made this sausage and egg breakfast bake last Christmas (yes, a full 11 months ago!) and I'm so sorry it has taken this long to share it with you. However I was determined to get it to you in time for you to make it for Christmas this year. 🙂
As you can tell by the name, this make-ahead sausage egg breakfast bake is assembled the night before, so all you need to do on a busy morning is stick it in the oven. All the hard work is already over by the time you wake up in the morning. That's my kind of breakfast!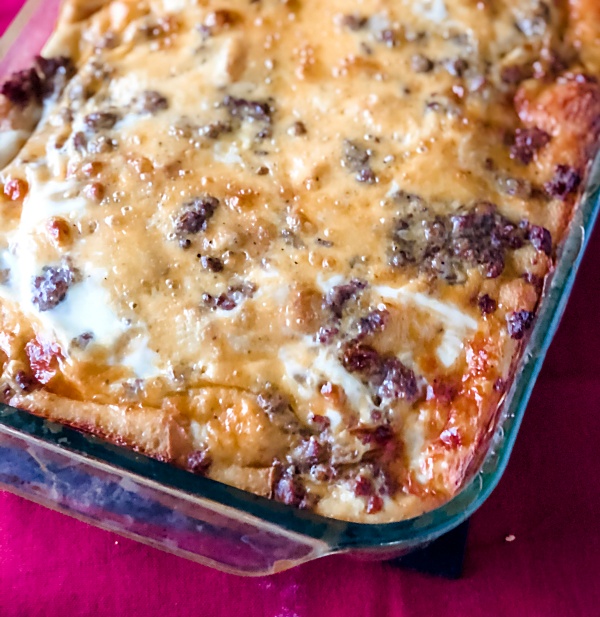 This breakfast casserole is a delicious and hearty mix of eggs, sausage, toasted bread, and sharp cheddar cheese. It smells delicious while it's baking and it's sure to bring everyone to the table ready for breakfast! I wish I had some more pictures to show you, but I actually served this to guests on the day I took these pictures so I didn't want to cut into it before they came. Trust me when I tell you that it dished up beautifully. 🙂
The recipe has all the makings of a typical egg bake, but with one interesting step to it that you don't want to skip. After you assemble the casserole you cover it with plastic wrap and weigh it down with another casserole dish. This key step helps the bread soak up the egg mixture and also helps to keep the bread from ending up soggy. It bakes up perfectly and you end up with a delicious egg casserole with a soft and tender (not soggy!) texture. I hope you try it this holiday season – I think you'll love it!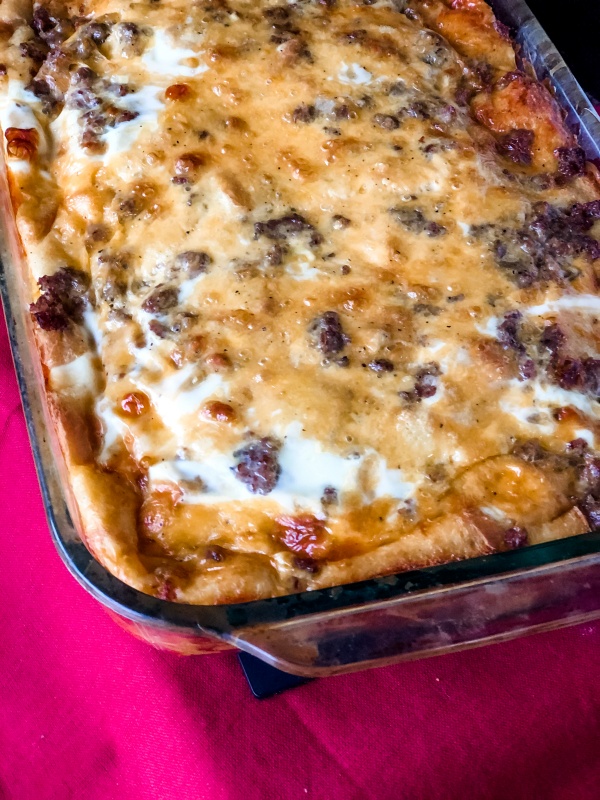 Yield: 9x13 inch pan
Make-Ahead Sausage Egg Breakfast Bake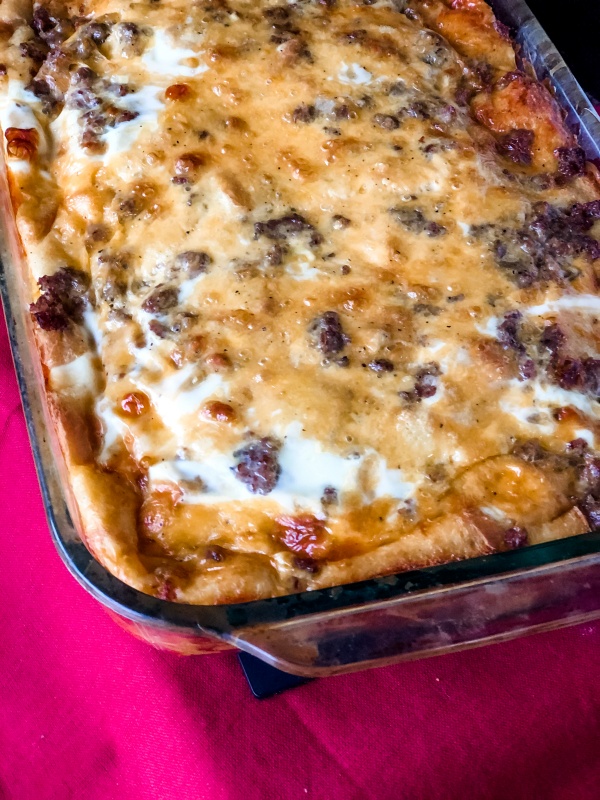 This hearty make-ahead breakfast casserole is a delicious combination of eggs, cheese, bread, and sausage - perfect for a stress-free breakfast option!
Total Time
2 hours
30 minutes
Ingredients
1 (14-inch) loaf Italian bread, ends trimmed
1 1/2 pounds bulk pork sausage
1 small onion, chopped fine
3 cups shredded extra-sharp cheddar cheese
12 large eggs, lightly beaten
4 cups 1% milk
1 ½ teaspoons table salt
1 teaspoon pepper
1 tablespoon hot sauce
Instructions
Adjust oven racks to upper-middle and lower-middle positions and heat the oven to 400 degrees F. Slice bread in half lengthwise then slice each half into ½ inch-thick slices. Spread the bread in single layers on two rimmed baking sheets and bake until golden, 10-15 minutes, flipping bread and switching and rotating sheets halfway through. The bread should be golden brown and toasted. Let the bread cool while you prepare the sausage.
In a large skillet over medium heat, cook the sausage and onion until the pork is no longer pink, breaking the meat into bite-sized pieces as it cooks.
Lightly coat a 9X13-inch baking dish with cooking spray. Layer half of the bread in the prepared pan so that the edges overlap slightly. Top with half of the sausage mixture and 1 cup cheese. Repeat with remaining bread, remaining sausage mixture, and remaining cheese.
In a large bowl, whisk eggs, milk, salt, pepper, and hot sauce together. Pour evenly over the assembled casserole. Place the casserole on a rimmed baking sheet (this is important - the liquid may spill over the sides of the pan) and wrap the casserole with plastic wrap, pressing the plastic wrap lightly on the top of the casserole. Fill another 9X13-inch dish with cans of food (beans, fruit, whatever) and nest the weighted dish on top of the assembled casserole. This will help the bread soak up the egg mixture. Refrigerate for at least 1 hour and up to 24 hours.
When ready to bake, adjust oven rack to middle position and heat oven to 350 degrees F. Let casserole stand at room temperature while the oven is heating. Remove weights, unwrap casserole, and bake until the edges and center have puffed and the top is golden brown, about 1 hour. Let it cool for 10 minutes before serving.

from Mel's Kitchen Cafe