Strata with Asparagus, Sausage, and Fontina
This weekend I helped to host a baby shower for Mike's cousin at our house. I was in charge of the food, and I was pretty nervous about it. I get nervous anytime I have to cook for anyone except mike, and making brunch for 12 other people definitely caused a little concern. I thought and rethought about the menu countless times, and in the end decided on an egg dish, pear bread, fruit salad, blueberry buttermilk cake, and banana brunch punch. I think it ended up well, and everyone seemed to enjoy it, althought the punch was definitely the biggest hit. Unfortunately, I didn't take any pictures of the process of making the punch, but I did include a link to the recipe.
For the egg dish, I decided on a Strata with Asparagus, Sausage, and Fontina from Williams-Sonoma. It's definitely a time consuming recipe, involving roasting red peppers, cooking the sausage, cooking the asparagus, etc, in advance. However, you can do it all the night before. All I had to do the morning of the shower was put it in the oven, which was really nice.
I thought it tasted really good, but next time I would leave out the asparagus. I love asparagus, but it seemed to get a little too mushy cooked in with everything else. Overall, it was great, however. I think it would save it for special occasions, because, like I said, it's definitely time consuming, and also fairly expensive. Everyone seemed to enjoy it though, so it was worth it. 🙂
As a side note, I did a trial run of this recipe the weekend before the shower to make sure it would be ok for the shower, and ended up feeding this strata with asparagus, roasted red peppers, fontina cheese, etc to a group of college age boys that were visiting us that weekend, and they also loved it. It's not just for a group of women 🙂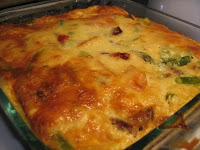 Strata with Asparagus, Sausage, and Fontina
Ingredients:
10 to 12 slices French bread, cut into 1-inch cubes
1 Tbs. extra-virgin olive oil
10 oz. breakfast sausage
16 eggs
6 cups milk
1 bunch green onions, light green portion only, finely chopped
4 roasted red bell peppers, peeled, seeded and thinly sliced
1 lb. asparagus, tough ends trimmed, spears cut into 1-inch pieces and cooked until tender
Salt and freshly ground pepper, to taste
4 cups grated fontina cheese
Directions:
Butter a large buffet pan or baking dish. Place the bread cubes in a large bowl. In a large sauté pan over medium heat, warm the olive oil. Add the sausage and cook, turning occasionally, until browned on both sides, 3 to 5 minutes total. Using a slotted spoon, transfer the sausage to a plate. Let cool, then cut into thin slices and transfer to the bowl with the bread. In another large bowl, whisk together the eggs and milk. Pour the egg mixture over the bread and sausage mixture. Add the green onions, bell peppers, asparagus, salt, pepper and 3 cups of the cheese and stir until well blended. Transfer to the prepared baking dish, cover with plastic wrap, and refrigerate for at least 4 hours or up to overnight. Preheat an oven to 350°F. Sprinkle the top of the strata with the remaining 1 cup cheese. Bake until the strata is golden brown and cooked through, about 1 hour. Let stand for 10 minutes before serving