Bell Pepper and Goat Cheese Strata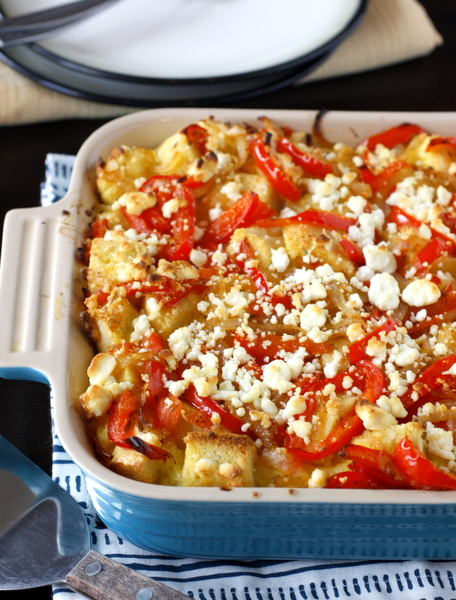 I've got another great breakfast recipe for you today! If you've followed my blog over the last month, you've noticed that when it come to Christmas food, I apparently only think about cookies and breakfast. Priorities, right? 🙂 This bell pepper and goat cheese strata would make a spectacular Christmas breakfast, but to be honest, we actually ate it for dinner one night. We are big fans of breakfast for dinner, and I'm slowly but surely convincing Mike that he likes stratas. This recipe was a double win because he also claims to not like peppers and goat cheese. You should have seen his face when I pulled this out of the oven for dinner. And yet, he liked it! I really like both goat cheese and bell peppers, and so I loved this strata. It was something a little different than your usual breakfast casserole and really had a great flavor. We ate it for a few days, reheating it in the oven each time, and I almost liked the leftovers better than the original. If you're looking for a delicious Christmas egg dish, I recommend this one!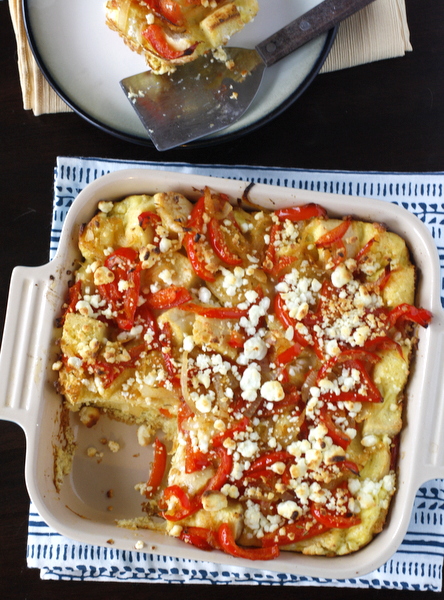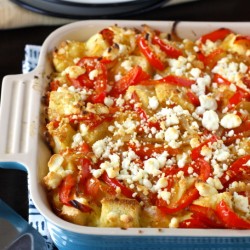 Bell Pepper and Goat Cheese Strata
Ingredients:
2 tablespoons olive oil, plus additional for brushing pan
8 eggs
1 cup milk
1/2 cup grated Parmesan
3/4 teaspoon kosher salt, divided
1/2 teaspoon freshly ground black pepper, divided
8 ounces whole-wheat baguette, preferably day-old, cut into 1-inch cubes
1 large red bell pepper, thinly sliced
1 onion, thinly sliced
1/2 tsp chopped fresh thyme (or 1/4 teaspoon dried)
1/2 cup goat cheese, crumbled
Directions:
Brush a 9" x 9" pan with oil. In a bowl, beat eggs, milk, Parmesan and 1/4 teaspoon each salt and black pepper. Add bread and toss until coated. Transfer to the prepared pan and set aside. Heat oven to 400°F. In a large nonstick pan, heat 2 tablespoons oil over medium-high heat. Sauté bell pepper, onion, thyme and remaining 1/2 teaspoon salt and 1⁄4 tsp black pepper until onion begins to brown, about 10 minutes. Add bell pepper mixture to pan spreading evenly over bread mixture; dot with goat cheese. Bake until top is puffed and browned and center is firm, about 30 minutes. Let rest 5 minutes.
*Note: I made this as written in a 9x9 pan. The pan was very full, and it took a little extra time to make sure the middle was cooked. Next time I think I will try a larger pan to see if it cooks more evenly.