Yellow Cupcakes with Sticky Chocolate Icing
I had high hopes for these cupcakes. I got the recipe from the pioneer woman (check out her website if you never have – it's one of my favorites!), and they looked amazing. Light, moist yellow cupcakes topped with a sticky fudgy icing – what could be better? And I was right – they were great, although not, I suspect, as great as they could have been. The icing might be my new favorite – it tastes like fudge! But for some reason my cupcakes were not quite light and moist – more like dense and slightly dry – not exactly what I was going for. I suspect the problem is my fault, and not the recipe's, so don't let that deter you from making these. I left out the sifting of the dry ingredients (a step the pioneer woman assures her readers is crucial), and I substituted skim milk for whole milk (something the pioneer woman specifically says not to do). But I don't own a sifter, or even a small colander, and it seemed like a waste to buy whole milk just for this recipe. Plus I think I overmixed them.
Despite the slightly dense and dry outcome of the cupcakes, these are still quite wonderful – mainly because of the frosting. Seriously it tastes just like fudge. And it hardens nicely, making it easy to handle the cupcakes without getting it all over yourself. The procedure for the cupcakes seemed a little complicated – most likely due to the need for softened butter and room temperature eggs – a problem when I hadn't planned ahead at all. However, once your ingredients are the correct temperature, the rest isn't too bad.
The frosting couldn't be easier – melt all the ingredients together, then drizzle on the cupcakes. Somehow the pioneer woman simply used a spoon to drop the icing onto the cupcakes and they looked cute and wonderful. Mine did not look either cute or wonderful, so my friend Becky had to step in and clean them up a little bit. In the end they looked pretty good. And tasted better. Mike rated them a 4, along with the disclaimer that he hasn't had cupcakes in a long time and doesn't have anything to compare them to. I'm sure you'll keep that in mind when deciding whether or not to make these.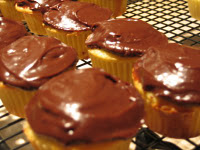 Yellow Cupcakes with Sticky Chocolate Icing
Ingredients:
Cupcakes:
2 cups cake flour
2 tsp baking powder
3/4 tsp salt
1/2 cup unsalted butter, softened
1 cup sugar
3 eggs, room temperature
2 tsp vanilla
3/4 cup, plus a tad more, whole milk
Sticky Chocolate Icing:
3/4 cup sweetened condensed milk
6 ounces semi-sweet chocolate
2 tablespoons butter
Directions:
For the Cupcakes: Preheat oven to 350.
First, sift together flour, baking powder, and salt. Next, in the bowl of an electric mixer, mix butter and sugar on high speed until fluffy. Scrape the sides of the bowl and mix for a few more seconds. Now add the eggs, one at a time, mixing well after each addition. Add the vanilla. Mix to combine. Next alternate adding dry ingredients and milk in three batches, mixing for a few seconds after each addition. Scrape the sides of the bowl then mix one final time.
Fill paper-lined muffin tins 3/4 full with batter. Bake for 20-22 minutes, or until poufy but not brown. Cool before icing.
For the icing: ix ingredients together in a small/medium saucepan. Melt ingredients over medium low heat, stirring gently. Icing is ready when all ingredients are melted and combined.
Spoon warm icing over cool cupcakes, stirring icing to smooth after every third cupcake or so.
Allow iced cupcakes to sit at least ten minutes before serving.