Pumpkin Gooey Butter Cake
Since Thanksgiving is almost here, I'll leave you with one more pumpkin recipe. After this it's onto gingerbread and peppermint and other Christmasy flavors. But if you have time for one last pumpkin dessert, this one should be it. Pumpkin gooey butter cakefrom Paula Deen. If you're looking for something a little different for Thanksgiving, but still want to keep the traditional flavors, this is a great recipe. I made this for Mike to take to a potluck lunch at work (which he complained about because he still thinks he doesn't like anything "pumpkin"), and only a few pieces came back home, so I think that's a good sign. As the name implies, it's gooey, rich, and creamy. If you like pumpkin pie, you'll love this. And actually, neither Mike or I likes pumpkin pie, and we still like this. So really you can't go wrong. 🙂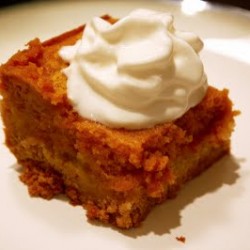 Pumpkin Gooey Butter Cake
Ingredients:
Cake:
1 (18 1/4-ounce) package yellow cake mix
1 egg
8 tablespoons butter, melted
Filling:
1 (8-ounce) package cream cheese, softened
1 (15-ounce) can pumpkin
3 eggs
1 teaspoon vanilla
8 tablespoons butter, melted
1 (16-ounce) box powdered sugar
1 teaspoon cinnamon
1 teaspoon nutmeg
Directions:
Preheat oven to 350 degrees F.
Combine the cake mix, egg, and butter and mix well with an electric mixer. Pat the mixture into the bottom of a lightly greased 13 by 9-inch baking pan.
To make the filling: In a large bowl, beat the cream cheese and pumpkin until smooth. Add the eggs, vanilla, and butter, and beat together. Next, add the powdered sugar, cinnamon, nutmeg, and mix well. Spread pumpkin mixture over cake batter and bake for 40 to 50 minutes. Make sure not to overbake as the center should be a little gooey.
Serve with fresh whipped cream.