Pumpkin Trifle
I hope you're not tired of pumpkin yet! Due to an overabundance of pumpkin recipes I am officially declaring this "pumpkin week" on my blog. Just in time for Thanksgiving!
First up is pumpkin trifle and oh my goodness is this good. I had no idea a pumpkin trifle could have such an impact on people, but everyone who tried this has had wonderful things to say about it. I took this to work last week and I don't think I've ever heard from so many people about something I've brought in. But really when you think about deliciously moist pumpkin bread layered with sweetened freshly whipped cream that's been mixed with pumpkin pecan butter….well, is there any wonder people can't stop talking about it?
Part of the appeal is that it's such a unique pumpkin recipe. And best of all it's so easy to make! This would be a great dessert to add to your Thanksgiving spread. It's a little lighter tasting than the traditional pumpkin pie (just don't look at the amount of heavy cream involved!), and is such a fun alternative. I made these cute little champagne flute trifles for photography purposes, but layered everything in a large trifle dish to take into work. Either way it makes a beautiful presentation, which just adds to the appeal of this simple little dessert.
*Note: I feel it necessary to share that in the process of photographing these delightful champagne flutes, I knocked them both off the table and onto the floor, spilling delicious trifle on the carpet. Mike immediately grabbed a rag and some cold water to clean up the mess of whipped cream while I picked pumpkin bread cubes up off the floor and ate them.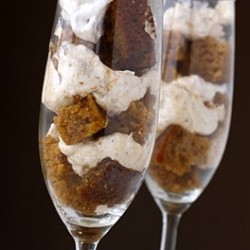 Pumpkin Trifle
Ingredients:
1 loaf pumpkin bread
2 cups heavy whipping cream
1 tsp vanilla
1/4 cup granulated sugar
1 cup pumpkin butter (I used Williams Sonoma Pumpkin Pecan butter, which is delicious)
Directions:
Cut the pumpkin bread into slices, and then into cubes. Set aside. In the bowl of an electric mixer fitted with the whisk attachment, beat together the cream, vanilla and sugar on medium-high speed until stiff peaks form, 2 to 3 minutes. Fold in the pumpkin butter. Layer the pumpkin bread cubes and whipped cream in deep glass dish or trifle bowl, alternating layers. Refrigerate until ready to serve. Serves 12-14.