Easiest Ever Fudge
Day 10: This was a disaster, from start to finish. Not the recipe I'm about to share, that turned out just as it was supposed to. But that isn't the first recipe I tried.
First I tried my mom's "never failed before" chocolate chip fudge recipe. Twice. And it failed. Twice. The first batch never hardened…you could scoop it out with a spoon. And the second batch turned into this gloopy mess that never came together and looked a little gross. Both ended up in the garbage.
So I called my mom and was very distraught over why this had happened to me, and (after telling me how many times she herself has successfully made that very same recipe), she went on the internet and sent me the easiest, most fail-proof recipe for fudge that she could find. And that is what I'm sharing with you now.
It's incredibly creamy, and it tastes great. It doesn't have quite the same consistency as a more traditional fudge recipe, but it more than makes up for that in ease of preparation. I'd definitely make it again, but I'm also open to new recipes. Does anyone else have a "no-fail" fudge recipe they'd like to share?
P.S. You can see all of my Christmas treat recipes from over the years at this Christmas Cookies tag. Enjoy! And, as always, let me know if you try any and how you liked them.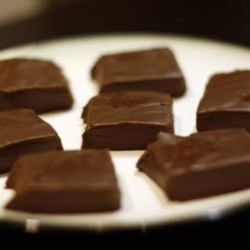 Easiest Ever Fudge
Ingredients:
1 can sweetened condensed milk
1 1/2 cups semi sweet chocolate chips
1 tsp vanilla
Pinch of salt (will add shine to the chocolate)
1 cup coarsely chopped nuts (your favorite kind- optional)
Directions:
Combine the sweetened condensed milk and chips in a heavy saucepan over low heat. Heat until chips are melted, stirring until smooth.
Remove from heat. Add the vanilla, salt and nuts.
Pour into a buttered 8x8 inch pan and refrigerate until cool.
Cut into squares.