Fudge Kiss Cookies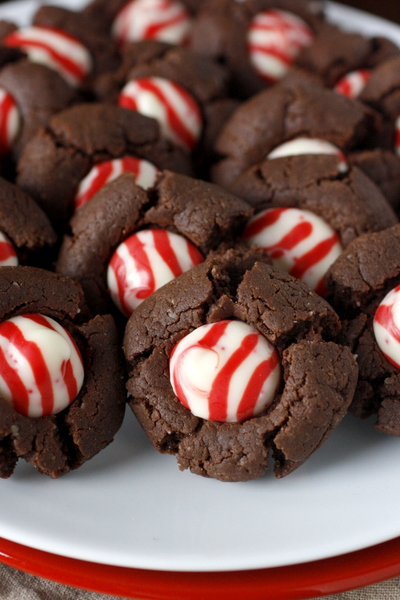 Day 6: You are going to love these fudge kiss cookies! These cookies are some of Mike's favorite cookies ever! He says they are his second favorite (oreo balls are his favorite, in case you were wondering!)
I've actually posted about these once before, but the post got lots when I moved my blog over to wordpress. If any cookie deserves re-posting, however, these ones do. That's how good they are!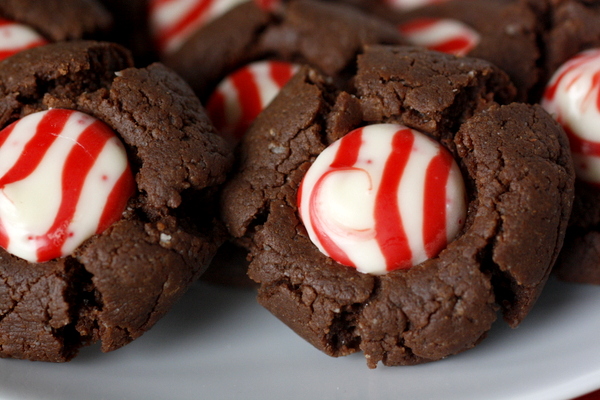 They look similar to hershey kiss cookies (also called peanut butter blossoms), but they taste totally different. The mint chocolate combination is ridiculously good, and perfect for Christmas.
The cookie part is a fudgy, dense chocolate cookie with just a hint of cinnamon. They are actually really good all on their own! The candy cane kiss, however, just takes them over the top. It gets soft and melty and the minty white chocolate pairs perfectly with the fudgy chocolate cookie.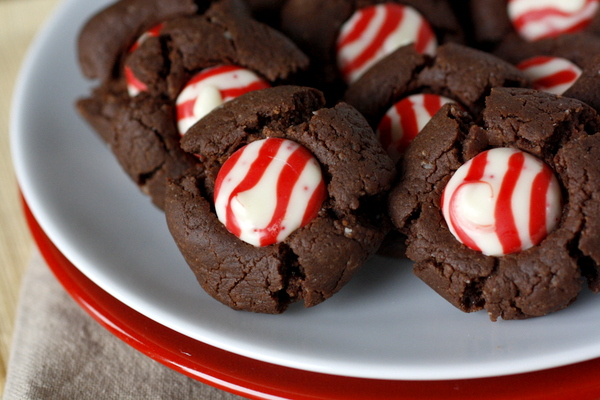 The result is a peppermint and chocolate cookie that just melts in your mouth. And, as an added bonus, they're really simple to make. Believe it or not, they start with a cookie mix! It doesn't get simpler than that. 🙂
So try these. Believe it or not they actually won a cookie bake-off contest at my company picnic, and Mike also rated them a 4.5. That's a pretty high recommendation! You are going to love these – they are absolutely perfect for Christmas!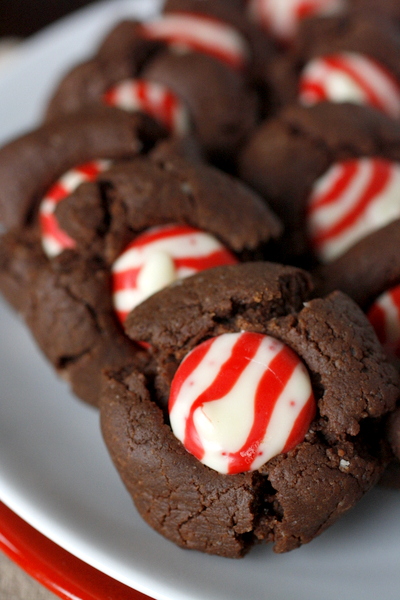 P.S. You can see all of my Christmas treat recipes from over the years at this Christmas Cookies tag. Enjoy! And, as always, let me know if you try any and how you liked them.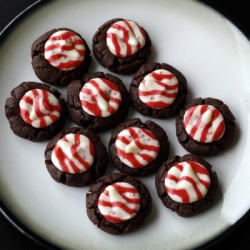 Fudge Kiss Cookies
Ingredients:
1/3 cup butter or margarine
6 oz unsweetened baking chocolate
1 can (14 oz) sweetened condensed milk
1 pouch (1 lb, 1.5 oz), Betty Crocker Sugar Cookie Mix
1 tsp ground cinnamon
60 Hershey's candy cane kisses
Directions:
Heat oven to 350. In large microwaveable bowl, microwave butter and chocolate on high, 1 minute.
Stir, microwave on high 1 minute longer or until butter is melted and chocolate can be stirred smooth.
Stir condensed milk into chocolate mixture. Stir in cookie mix and cinnamon until well blended.
Using 1 level tablespoon of dough for each cookie, shape into 60 balls. On ungreased cookie sheets, place balls 2 inches apart.
Bake 6 to 7 minutes or until edges lose their shiny look (do not over bake). Immediately press 1 candy into center of each cookie.
Cool on cookie sheets 5 minutes; remove from cookie sheets to cooling racks. Tap edge of candy lightly. Cool completely. Store at room temperature.