Fudge Kiss Cookies
Day 6: This another of Mike's favorites. He says they are his second favorite cookie ever (behind oreo balls). I've actually posted about these once before, but if any cookie deserves re-posting, these ones do. They look similar to hershey kiss cookies (peanut butter blossoms), but they taste totally different. The cookie part is a fudgy, dense chocolate cookie with a hint of cinnamon. And the striped center is a candy cane hershey kiss, in honor of Christmas. The result is a peppermint and chocolate cookie that just melts in your mouth. And, as an added bonus, they're really simple to make. So try these. Not only did they win a cookie bake-off contest at my company picnic, but Mike also rated them a 4.5. And that's a pretty high recommendation.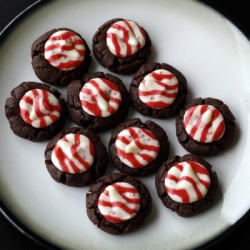 Fudge Kiss Cookies
Ingredients:
1/3 cup butter or margarine
6 oz unsweetened baking chocolate
1 can (14 oz) sweetened condensed milk (not evaporated)
1 pouch (1 lb, 1.5 oz), Betty Crocker Sugar Cookie Mix
1 tsp ground cinnamon
60 Hershey's candy cane kisses
Directions:
Heat oven to 350. In large microwaveable bowl, microwave butter and chocolate on high, 1 minute. Stir, microwave on high 1 minute longer or until butter is melted and chocolate can be stirred smooth. Stir condensed milk into chocolate mixture. Stir in cookie mix and cinnamon until well blended. Using 1 level tablespoon of dough for each cookie, shape into 60 balls. On ungreased cookie sheets, place balls 2 inches apart.
Bake 6 to 7 minutes or until edges lose their shiny look (do not over bake). Immediately press 1 candy into center of each cookie. Cool on cookie sheets 5 minutes; remove from cookie sheets to cooling racks. Tap edge of candy lightly. Cool completely. Store at room temperature.