Oatmeal Creme Pies
Day 12: For the last day of the 12 days of Christmas (cookies), I saved one of my new favorites – homemade oatmeal creme pies. These are good. Really good. And they were an accident! (sort of). I had this great recipe planned for a completely different type of cookie that I was all excited about, and it turned out to be terrible. I knew I couldn't use it as part of my cookie series, so I was searching the internet for a replacement. When I stumbled on the idea of oatmeal creme pies, I was hooked. I combined a few different recipes to get what I wanted, and these wonderful, chewy cookies with the smooth and creamy filling are the result. They're delicious! Mike was very pleasantly surprised when he tasted them, and they are one of his new favorites as well.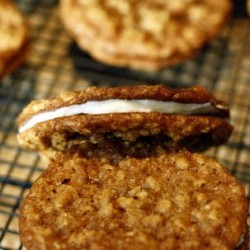 Oatmeal Creme Pies
Ingredients:
Cookie:
1/2 cup softened butter
1/2 cup shortening
1/4 cup light corn syrup
1 1/4 cups brown sugar
1 large egg
1 teaspoon vanilla extract
1 1/2 cups flour
1 teaspoon baking soda
1 teaspoon cinnamon
1/2 teaspoon salt
1/2 teaspoon ground cloves
2 cups regular uncooked oats
Filling:
1 cup butter, softened
4 cups powdered sugar
2-4 tablespoons whipping cream
2 teaspoon vanilla extract
Directions:
For the cookie:
Preheat oven to 375. Beat butter, shortening, corn syrup and sugar on medium speed until fluffy. Add egg and vanilla extract and beat until blended. Combine flour, baking soda, cinnamon, salt and cloves and gradually add to butter mixture. Stir in oats. Shape dough into tablespoon size balls and place 2 inches apart on parchment lined baking sheets. Press down on each ball to flatten slightly. Bake for 10-12 minutes until golden. Cool on baking sheet for 3 minutes, then remove to wire rack and cool completely.
For the filling:
Combine all ingredients in a medium bowl. Beat with an electric mixer on low speed until combined, scraping bowl. Beat on high until light and fluffy.
Spread filling on one cookie and sandwich another cookie on top. Eat and enjoy