Spicy Italian Meatballs
I have to confess something. My grandmother is Italian and I grew up eating both her and my mom's homemade meatballs on a regular basis. I love them, and so does the rest of the family. However, I'm going to go ahead and say that these meatballs that I made recently just might be the best I've ever had. And the recipe came, not from my grandmother's old handwritten notebook of recipes, but from a recipe website. On the internet. I don't think my grandmother has ever even used the internet.
Now to be absolutely truthful, the reason these are so delicious might have something to do with the method I used. I recently went to a Williams Sonoma cooking class (yes, another one…what can I say, they're free), and the theme was Italian comfort food. There I learned that when making meatballs, the most important thing is to not overwork the meat. Apparently if you overwork the meat, the fat does something funny and becomes a sort of "glue", making the end product dense and heavy. Definitely not what you want. The instructor recommended mixing all the other ingredients together first, then just gently folding the meat in. There is no "kneading" of the meat, or rolling the meatballs into balls. She ever so gently combined everything, and then just as gently shaped them into balls.
I used the same technique for these, and they turned out moist and tender and almost falling apart. The red pepper flakes give them a great flavor as well, although I was nervous and cut the amount of red pepper in half. That turned out to be just the right amount of spice and combined perfectly with the other flavors. Absolutely delicious. I ate 2 right off the baking sheet before I even took a picture.
I served these as meatball sandwiches with a homemade marinara sauce and homemade sandwich buns (recipes coming soon!) They were wonderful, and great reheated the next day as well. But actually, I think I prefer eating the meatballs plain, where their delicious taste and texture really shines.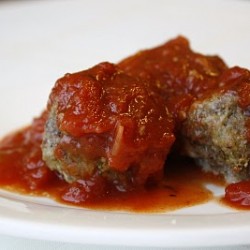 Spicy Italian Meatballs
Ingredients:
2 pounds Ground Beef
¼ cups Bread Crumbs
½ cups Grated Parmesan Cheese
2 teaspoons Dried Basil
2 teaspoons Parsley Flakes
1-½ teaspoon Kosher Salt
2 whole Large Garlic Cloves, Minced
1/2 - 1 teaspoon Red Pepper Flakes
⅓ cups Milk
1 whole Egg
½ cups Bread Crumbs
Directions:
Preheat oven to 350º. Beat egg lightly. Mix together 1/4 cup bread crumbs, parmesan cheese, basil, parsley, salt, garlic, red pepper flakes, milk and egg. Using a folding motion, gently mix in the ground beef. Be careful not to overwork it. Using a spoon, divide out equal portions of the meat mix and gently form into balls, pressing lightly to hold together. Roll into the reserved 1/2 cup bread crumbs and place onto a greased baking sheet. Bake at 350º for about 30 minutes, flipping the meatballs after 20. Bake until bread crumbs begin to brown and meatballs are cooked through.