Marinara Sauce
I think I mentioned before that I'm part Italian. I grew up eating my grandma's, and then my mom's homemade spaghetti sauce. There was always sauce in the freezer ready to be defrosted for a quick dinner. To me, homemade spaghetti sauce is completely normal (and necessary). That being said, while I love my family's spaghetti sauce, I'm not against trying new recipies. I tried this marinara sauce a few weeks ago after a Williams Sonoma cooking class, and it was a great accompaniment to my new favorite meatballs.
This couldn't be easier to throw together. Just put everything together in the pot and let it simmer for a few hours. (To be honest, the worst part is crushing the tomatoes between your fingers, and I made Mike do that because it feels slimy. Yes, sometimes he has to work for his meals). The tomatoes and wine cook down and become a delicious sauce with a wonderful flavor. It's very versatile and is good for anything from pasta to meatballs to calzones. Of course it won't completely replace the family recipe from my grandma, but I'll definitely be making it again.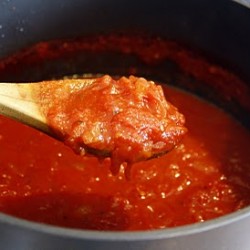 Marinara Sauce
Ingredients:
2 cans (each 28 oz) whole San Marzano tomatoes
3 Tbsp olive oil
1 large yellow onion, diced
2-4 garlic cloves, minced
1/2 cup hearty red wine
1/4 tsp red pepper flakes
1 bay leaf
1/4 cup chopped fresh basil
Directions:
Place the tomates in a tomato press or food mill set over a bowl and pass them through the press or mill. Repeat as needed until all of the large pieces of tomatoes are crushed. Alternatively, pour the tomatoes into a large bowl and crush them betwen your fingers. Set aside.
In a large, heavy nonreactive saucepan over medium heat, warm the olive oil. Add the onion and cook, stirring occasionally, until tender, about 5 minutes. Stir in the garlic and cook until fragrant, about 1 minute.
Add the wine and bring to a boil. Add the crushed tomatoes and their puree, the red pepper flakes and bay leaf. Increase the heat to medium-high and bring to a boil, stirring frequently. Reduce the heat to low and simmer for about 2 hours, stirring occasionally to prevent scorching and adding water if the sauce thickens too quickly. During the last 15 minutes of simmering, stir in the basil.
Discard the bay leaf. Use the sauce immediately, or let cool, cover and refrigerate for up to 4 days or freeze for up to 3 months. Makes about 6 cups