Stir-Fried Pasta Primavera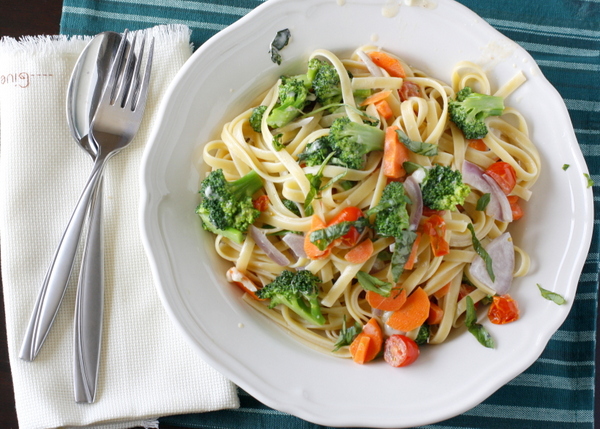 This is a great Spring dish with lots of vegetables. Of course the heavy cream and parmesan cheese don't exactly make this a healthy meal, but I say just ignore that part and think about the veggies. 🙂  This was a great quick meal, and something different than we usually have. We love stir-fry, but we usually make it with soy sauce and serve it over rice. Combining stir fried veggies with pasta and a delicious cream sauce is something we'll definitely be repeating. The vegetables stayed nice and crisp, and the sauce didn't taste heavy at all. If you're looking for a tasty way to get some more veggies into your dinner, this recipe is for you. Oh, and the re-heated leftovers were delicious as well! 🙂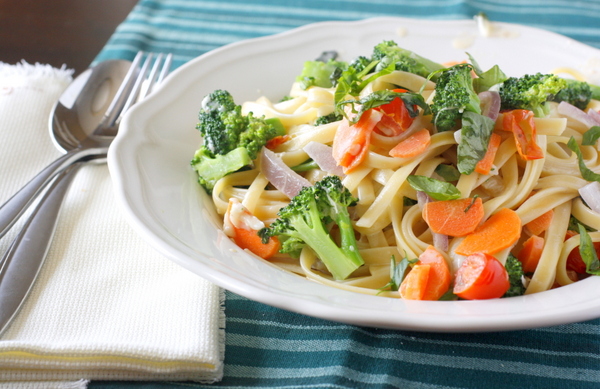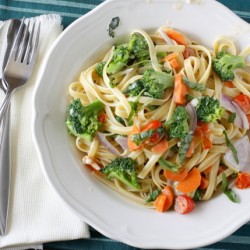 Stir-Fried Pasta Primavera
Ingredients:
3 cups broccoli florets
12 ounces fettuccine pasta
2 tablespoons vegetable oil
1 red onion, halved lengthwise and sliced 1/4 inch thick
4 carrots, sliced 1/4 inch thick
1 cup cherry tomatoes, halved
Salt and pepper
3/4 cup heavy cream
3/4 cup grated parmesan cheese
1/4 cup chopped fresh basil
Directions:
In a large pot of boiling, salted water, cook the broccoli until bright green, about 60 seconds. Using a slotted spoon, transfer the broccoli to a colander, reserving the water in the pot. Add the pasta to the pot and cook according to the package, until al dente. Drain, reserving 1/4 cup of the pasta cooking water.
Meanwhile, heat a large skillet or wok over high heat until a bead of water vaporizes upon contact. Swirl in 1 tablespoon oil. Add the onion and stir-fry until it is fragrant, about 1 minute. Swirl in the remaining 1 tablespoon oil. Add the broccoli and carrots and stir-fry until the carrots begin to wilt, about 2 minutes. Add the tomatoes, season with salt and pepper and stir-fry for 1 minute. Stir in the cream, bring to a boil and remove from the heat. Stir in the parmesan and basil.
Add the pasta and the reserved cooking water to the wok and toss to coat; season with salt and pepper. Serve immediately.
from Rachael Ray Magazine