Layered Brownies
If you're looking for a rich, decadent dessert, these brownies would be perfect. They're not in any way good for you, but they taste so absolutely delicious, it doesn't even matter. Thick fudgy brownies, cream cheese frosting, and a chocolate glaze on top. Three layers that combine into one incredible brownie.
The recipe comes from one of my co-workers, Bob. Bob brings these to work when we celebrate birthdays, holidays, etc and he is well known for them. I used to sit right next to Bob, and once an email went out that he brought his brownies in, I could count on a stream of people walking past my desk to get to them. Yes, they're that good.
Mike loves these brownies. And actually that might be an understatement. I always bring one home for him from work (the benefit of sitting next to Bob), and every time he tells me "you have to get the recipe and make these!" Well, I finally took his advice and made these for Easter dinner. They were a big hit and I got asked quite a few times if I was going to put them on the blog. Of course I said yes, and here they are, in all their sugary goodness.
The only thing lacking is the name. At work we call them "Bob's brownies". Bob calls them "Leah's Brownies", after his daughter. Mike wanted to rename them "scrumptious brownies", but that didn't seem quite right either. I went with the boring sounding name of "layered brownies". Anyone have any suggestions??
And if you look at the following picture, yes, I really did take them to Easter dinner like that. How else was I supposed to get a good picture?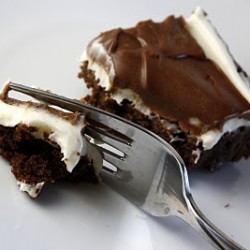 Layered Brownies
Ingredients:
Brownie:
1 c butter, melted
2 c sugar
4 eggs
3/4 cup Hershey's cocoa
1 c flour
1/2 tsp baking powder
2 tsp vanilla
1/4 tsp salt
Cream Cheese Frosting:
1 lb powdered sugar
1 stick butter/margarine at room temperature
1 package cream cheese (8 oz) at room temperature
1 tsp vanilla
Chocolate Glaze:
1 cup powdered sugar
1/2 stick butter or margarine, melted
2-4 Tbsp evaporated milk
1 oz semi-sweet chocolate, melted
Directions:
For the brownies: Heat oven to 325-350 degrees. Grease 13x9 baking pan. Stir together butter, sugar, vanilla. Beat in eggs one at a time. Add cocoa, flour, baking powder, salt; beat until well blended. Pour batter into pan and bake 30-35 minutes or until brownies begin to pull away from the sides and toothpick tester comes out clean. Cool completely.
For the Frosting: Beat together butter, cream cheese, vanilla, Add the powdered sugar 1 cup at a time until you have used it all and the frosting is smooth. Pour over cooled brownies and chill.
For the Glaze: Melt chocolate and butter in double broiler, mix with powdered sugar and add milk one tbsp at a time. Try not to make the glaze too wet. Drizzle over brownies when well mixed.