Caramilk Fudge
Day 5 of the 12 days of Christmas Treats!
Fudge. Sweet, creamy, delicious fudge. Ever since my disastrous fudge experience last year I've been a little nervous to try again. Last year, after two failed attempts, I resorted to the easiest fudge recipe ever created. While that was good, I knew that this year I wanted to try something a little bit more difficult. After all, I had another whole year of baking experience under my belt…surely this year I could handle fudge! Surely this year I could get it right on the first try. And it was a success! A delicious success.
I would feel a lot better about myself if we all pretend not to notice that this year's recipe just might be the second easiest fudge recipe ever created. I mean, it's made in a microwave (is that cheating?), and it takes approximately 15 minutes. But trust me when I tell you that no one who tastes it would ever guess how easy it is.
The chocolatey caramel in the middle makes it seem fancy and impressive. And the taste is rich and creamy, exactly what you want fudge to taste like.
This was one of Mike's favorite treats of the whole series. I think his exact quote was "oh my gosh, I love that stuff."
P.S. You can see all of my Christmas treat recipes from over the years at this Christmas Cookies tag. Enjoy! And, as always, let me know if you try any and how you liked them.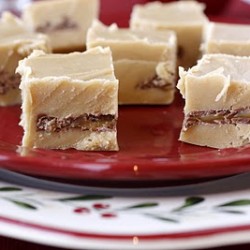 Caramilk Fudge
Ingredients:
2 cups brown sugar
1 can sweetened condensed milk
3/4 cup butter
1 cup powdered sugar
1 tsp vanilla
9 Ghirardelli milk and caramel bars (original recipe called for 6 caramilk bars)
Directions:
Grease an 8x8 pan and set aside.
Combine brown sugar, condensed milk, and butter in a large microwaveable bowl and microwave for 8 min, stirring every 2 minutes.
Add the powdered sugar and vanilla. Beat with a handmixer for 4 minutes.
Pour half the mixture into the greased pan. Lay the candy bars and pour the rest of the mixture on top and smooth.
Click here to see the rest of the 12 Days of Christmas Treats
If you like what you see, you may want to sign up to get free email updates or subscribe via rss. 🙂