Flaky Peppermint Creme Filled Cookies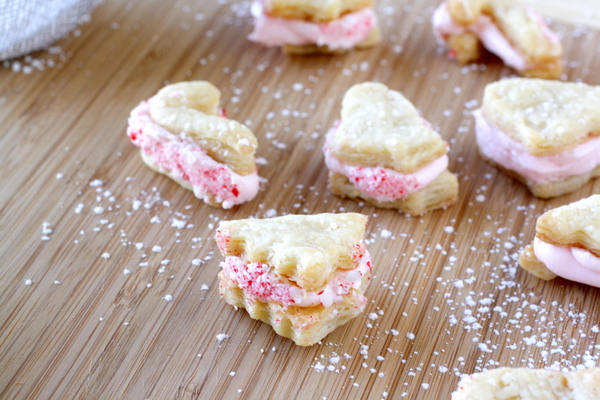 These cookies are exactly what they sound like – flaky cookies with peppermint creme filling. Yum! The outside cookie part is buttery and light and tastes just like puff pastry.  The inside is creamy, minty and fluffy. The two parts pair together perfectly to create a melt in your mouth cookie experience. 🙂
These cookies were actually easier to make than I expected. I used mini Christmas cookie cutters to make them a little extra festive. I think I'd skip the candy cane cookie cutter next time though – I don't know if you can tell from the pictures, but those ones were pretty messy. These were a lot of fun to make and entirely too easy to eat.
I used a sandwich bag to pipe the filling onto the cookie to speed up the process a little bit and it worked great. Mike wasn't a huge fan of these but I absolutely loved them. The only problem I had was that I kept eating the ones I deemed too messy to give away.  I have no willpower when it comes to cookies!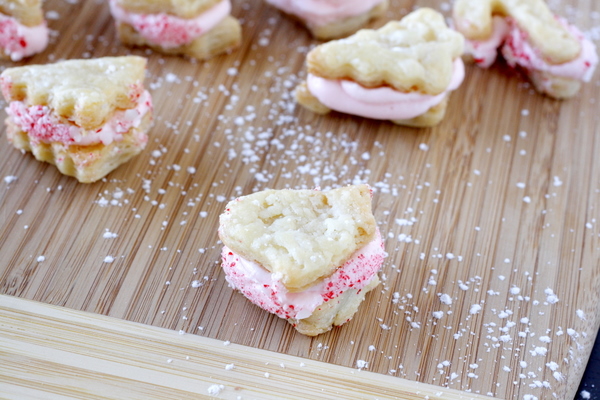 P.S. You can see all of my Christmas treat recipes from over the years at this Christmas Cookies tag. Enjoy! And, as always, let me know if you try any and how you liked them.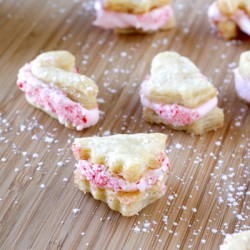 Flaky Peppermint Creme Filled Cookies
Ingredients:
Cookies:
2 cups all purpose flour
1/4 tsp salt
1 cup cold butter, cubed
1 pkg (8 oz) cream cheese, cubed
Creme Filling:
2/3 cup butter, softened
2/3 cup marshmallow creme
1 1/2 cups confectioners' sugar
1/2 tsp peppermint extract
1 drop red food coloring (optional)
Directions:
For the cookies:
In a large bowl, combine flour and salt. Cut in cold butter and cream cheese until mixture resembles coarse crumbs. Shape into a disk, wrap in plastic wrap and refrigerate for 2 hours or until easy to handle.
One a floured surface, roll dough to 1/2-in thickness. Cut with a floured 1 1/2-in cookie cutter. Place 2 in. apart on parchment lined baking sheets.
Bake at 350 for 9-10 minutes, or until light golden brown. Remove to wire racks to cool completely.
For the creme filling:
In a large bowl beat softened butter and marshmallow creme until light and fluffy. Gradually beat in confectioners' sugar. Beat in peppermint extract and drop of red food coloring, if using.
Spread creme mixture on the bottoms of half of the cookies. Top with matching cookies. If desired, roll edges of cookies in crushed candy canes.
from Taste of Home, November 2011