Chai Banana Smoothies
I don't know what to say about these chai banana smoothies, other than stop reading this post, get in your kitchen and start making them! I'm not kidding. We had these for breakfast this morning and as I write this post, I've already got the tea steeping for another batch of them. These smoothies taste just like a chai milkshake, but they're healthy!  I love the sweet and spicy taste of chai tea, and this frozen creamy concoction is no different. My smoothie wasn't very thick (we thought it was perfect!), but if you want yours a little thicker, I'd cut down on the milk or, if you don't mind extra banana flavor, add another banana to the blender.  As for me, I'm busy filling my freezer with chai ice cubes and I'll be making this creamy treat as often as possible.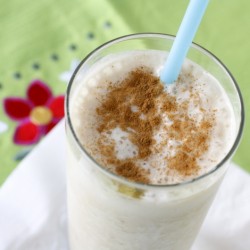 Chai Banana Smoothie
Ingredients:
2 chai tea bags
1 cup boiling water
1 large banana
1 cup milk
dash of cinnamon
dash of nutmeg
sugar to taste
Directions:
Add the chai tea bags to the boiling water and let steep until the water has come to room temperature.
Pour the tea into ice cube trays and freeze for several hours, or until ice cubes are completely frozen.
Combine the ice cubes, banana, milk, cinnamon, nutmeg and sugar to taste and blend on high until smooth.