Chicken and Vegetable Pie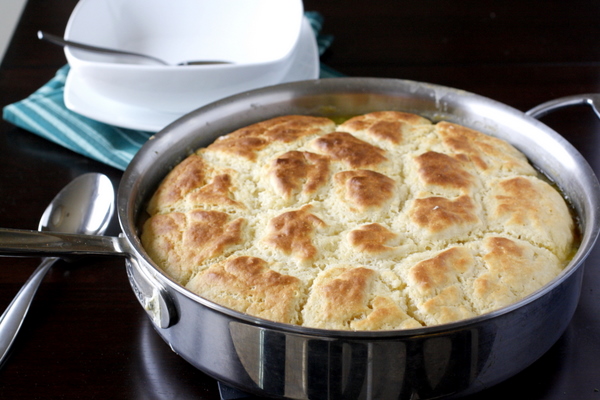 This chicken and vegetable pie is pure comfort food. A creamy, gravy-like sauce, cooked carrots, onions and broccoli, tender chicken, and of course fresh fluffy biscuits. The combination is so incredibly good that Mike and I both went back for seconds, and even then I couldn't resist sneaking spoonfuls as I cleaned up after dinner. I made this meal on a lazy Sunday afternoon and it was the perfect end to our weekend – warm, comforting and delicious. I initially was a little worried that the gravy was too thin and looked a little too "soupy". But once I served it, the biscuits started soaking up the extra liquid and the whole thing turned into a wonderful rendition of biscuits and gravy. Seriously, I would eat this again and again. As I write this post (on a Saturday afternoon – yes, I try to write my posts in advance!), I'm even considering making this for Sunday dinner again tomorrow. It's that good. 🙂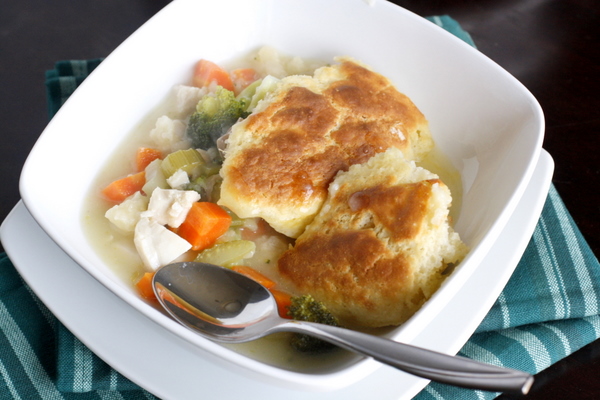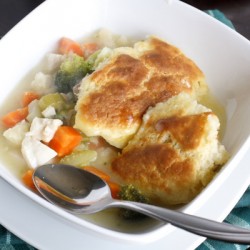 Chicken and Vegetable Pie
Ingredients:
9 Tbs. unsalted butter, divided
2 cups chopped broccoli florets
1 small onion, chopped
1 cup chopped carrots
1/2 tsp. salt, plus more, to taste
Freshly ground pepper, to taste
2 1/3 cups all-purpose flour, divided
1/4 cup dry white wine
4 cups chicken broth
4 cups shredded cooked chicken
4 tsp. baking powder
1 1/2 cups milk
Directions:
Preheat an oven to 375ºF. Steam the broccoli until crisp-tender and set aside.
In a large ovenproof fry pan over medium-high heat, melt 4 Tbs. of the butter. Add the carrots and onions, season with salt and pepper, and sauté until softened, about 5 minutes. Add 1/3 cup of the flour and cook, stirring, for 2 minutes. Stir in the wine and broth and bring to a boil. Reduce the heat to low and simmer, stirring occasionally, until the liquid thickens slightly, about 5 minutes. Stir in the chicken and broccoli, and season with salt and pepper.
In a medium sized bowl, combine the remaining 2 cups flour, the baking powder and the 1/2 tsp. salt. Using a pastry blender or 2 knives, cut in the remaining 5 Tbs. butter until the mixture forms coarse crumbs about the size of peas. Add the milk and, using a rubber spatula, stir until evenly moistened. The batter will be liquidy. Place heaping spoonfuls of the batter evenly over the chicken filling.
Bake until the topping is golden brown and the filling is bubbling, about 35 minutes. Serves 4 to 6.