Southwestern Stuffed Peppers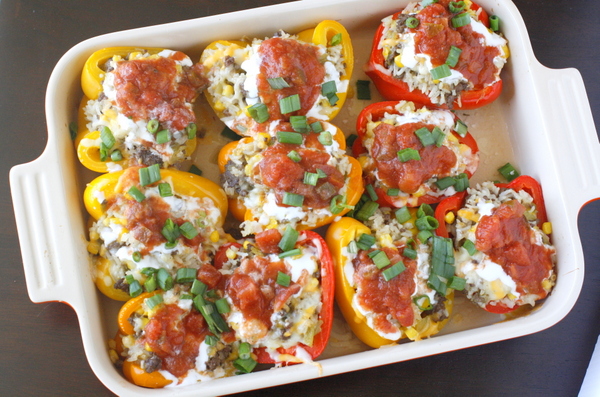 I cannot say enough good things about these southwestern stuffed peppers. This dish ranks right up there as one of my favorite meals.  I was pretty certain I would like this meal, but what I didn't realize was just how much Mike would love it. Stuffed peppers aren't really his thing, so I was a little hesitant in telling him what was for dinner. When he asked, I said something like: "stuffed peppers, but I really think you'll like them, so please keep an open mind!" Thankfully he did, and now this is one of his favorite meals as well. He even went so far as to tell me that I could make them any time I wanted! They are quick to prepare, and the stuffing inside these peppers is wonderful – full of meat, rice, corn, cheese, and delicious southwest flavor. Plus, they look impressive! Suffice it to say, if you're invited to dinner over here any time in the near future, this will probably be on the menu. 🙂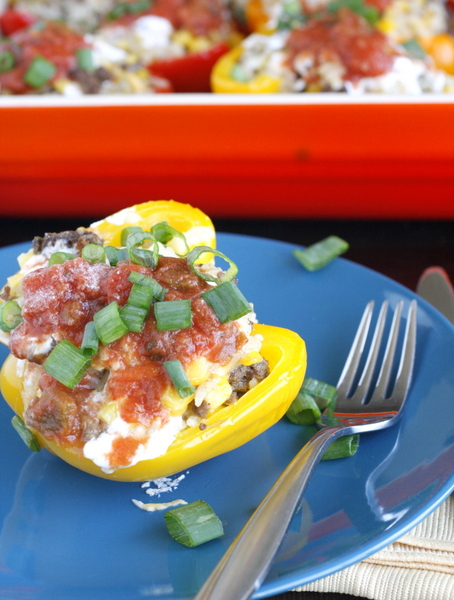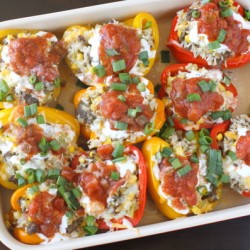 Southwestern Stuffed Peppers
Ingredients:
1 cup long grain white rice
1 Tbsp olive oil
6 scallions, thinly sliced, white and green parts separated
1/2 pound ground beef
1 cup frozen corn
1 4.5 oz can chopped green chilies
1 tsp ground cumin
4 oz Monterey Jack cheese, grated (1 cup)
salt and pepper
4 large bell peppers, halved lengthwise, ribs and seeds removed
1/2 cup plain low-fat Greek yogurt
salsa, for serving
Directions:
Heat the oven to 375. Cook the rice according to the package directions.
Heat the oil in a large skillet over medium-high heat. Add the scallion whites and beef and cook, breaking the beef up with a spoon, until no longer pink. Stir in the corn, chilies, cumin, cooked rice, 1/2 cup of cheese, 1/2 tsp salt, and 1/4 tsp pepper.
Arrange the bell peppers, cut-side up, in a 9x13 baking dish. Divide the beef mixture among the bell peppers. Add 1/2 cup water to the dish, cover tightly with aluminum foil, and bake until the peppers are soft, 30-40 minutes. Uncover, sprinkle with the remaining 1/2 cup of cheese, and bake until browned, 5-7 minutes more.
In a small bowl, whisk together the yogurt and 1/4 cup water. Drizzle over the peppers and top with the salsa and scallion greens.
*The peppers can be stuffed up to 12 hours in advance; refrigerate, covered. Bake as directed, adding 5-10 minutes to the original baking time.
from Real Simple, February 2012