Lemon Meringue Pie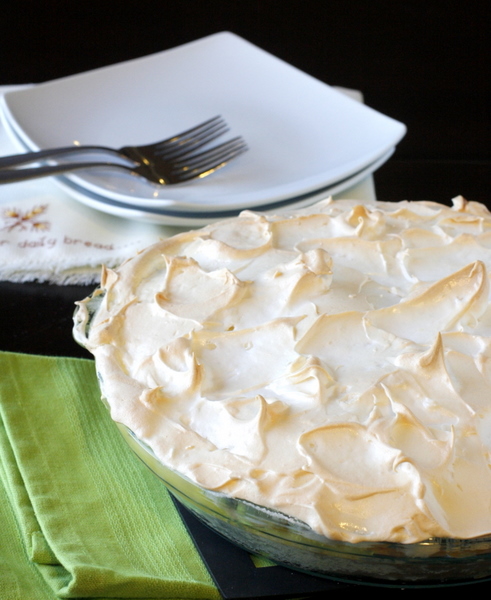 I've been saving this lemon meringue pie for the right time to post it. I made it months ago for a friend's birthday treats at work (Lynn of the famous white chicken chili!), and for some reason never posted it. I got busy with Fall recipes and kind of forgot about this pie until I realized I had yet to post anything specifically for Thanksgiving this year (other than my round-up on Saturday of course!). How convenient that I already had pictures of one of my favorite pies ready and waiting!

Growing up, lemon meringue pie was the only type of pie I liked. I've since branched out and like plenty of other pies, but I still remember my mom specifically adding lemon meringue to the list of pies she would make for Thanksgiving just so I could have some. Back then I'm pretty sure she made it with boxed lemon pudding and I loved it. This one, however, is completely from scratch and, no offense Mom, tastes even better than the pies of my childhood. The lemon pudding layer is smooth and thick and tastes of real lemon. The meringue is light and fluffy and the perfect accompaniment to the rich lemon pudding. This pie is definitely a winner and would make a great end to your Thanksgiving dinner.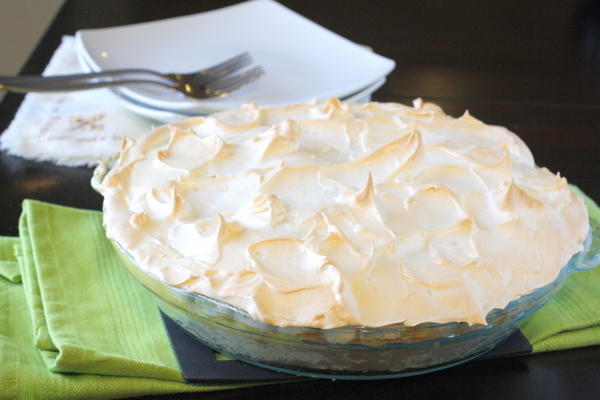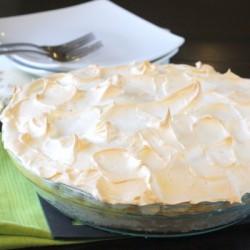 Lemon Meringue Pie
*Note: Feel free to substitute your favorite pie crust recipe for the one listed below.
Ingredients:
Graham Cracker-Coated Pie Shell:
1 1/4 cups unbleached all-purpose flour
1/2 teaspoon table salt
1 tablespoon granulated sugar
6 tablespoons unsalted butter , chilled and cut into 1/4-inch pieces
4 tablespoons vegetable shortening , chilled
3–4 tablespoons cold water
1/2 cup graham cracker crumbs
Lemon Filling:
1 cup granulated sugar
1/4 cup cornstarch
1/8 teaspoon table salt
1 1/2 cups cold water
6 large egg yolks
1 tablespoon lemon zest from 1 lemon
1/2 cup lemon juice from 2 to 3 lemons
2 tablespoons unsalted butter
Meringue Topping:
1 tablespoon cornstarch
1/4 teaspoon cream of tartar
1/2 cup granulated sugar
4 large egg whites
1/2 teaspoon vanilla extract
Directions:
For the pie shell: Mix flour, salt and sugar in a food processor. Scatter butter pieces over flour mixture, tossing to coat butter with a little of the flour. Cut butter into flour with five 1 second pulses. Add shortening; continue cutting in until flour is pale yellow and resembles coarse cornmeal with butter bits no larger than a small pea, about four more 1-second pulses. Turn mixture into medium bowl.
Sprinkle 3 tablespoons cold water over mixture. Using rubber spatula, fold water into mixture; press down on dough mixture with broad side of spatula until dough sticks together. If dough will not come together, add up to 1 tablespoon more cold water. Shape dough into ball, then flatten into 4-inch-wide disk. Dust lightly with flour, wrap in plastic, and refrigerate for 30 minutes before rolling.
Generously sprinkle work area with 2 tablespoons graham cracker crumbs. Place dough on work area. Scatter a few more crumbs over dough. Roll dough from center to edges, turning it into a 9-inch disk, rotating a quarter turn after each stroke and sprinkling additional crumbs underneath and on top as necessary to coat heavily, (see illustration 2). Flip dough over and continue to roll, but not rotate, to form a 13-inch disk slightly less than 1/8-inch thick.
Fold dough into quaarters; place dough point in center of 9-inch pie pan. Unfold to cover pan completely, letting excess dough drape over pan lip. To fit dough to pan, lift edge of dough with one hand and press dougn in pan bottom with other hand; repeat process around circumferences of pan to ensure dough fits properly and is not stretched. Trim all around, 1/2-inch past lip of pan. Tuck 1/2 inch of overhanging dough under so folded edge is flush with lip of pan; press to seal. Refrigerate until firm, about 30 minutes. Use fork to prick shell at 1/2-inch intervals; press a doubled 12-inch square of aluminum foil into pie shell; prick again and refrigerate at least 30 minutes.
Adjust oven rack to lowest position, heat oven to 400 degrees. Bake, checking occasionally for ballooning, until crust is firmly set, about 15 minutes. Reduce oven temperature to 350 degrees, remove foil, and continue to bake until crust is crisp and rich brown in color, about 10 minutes longer.
For the filling: Mix sugar, cornstarch, salt, and water in a large, nonreactive saucepan. Bring mixture to simmer over medium heat, whisking occasionally at beginning of the process and more frequently as mixture begins to thicken. When mixture starts to simmer and turn translucent, whisk in egg yolks, two at a time. Whisk in zest, then lemon juice, and finally butter. Bring mixture to a brisk simmer, whisking constantly. Remove from heat, place plastic wrap directly on surface of filling to keep hot and prevent skin from forming.
For the meringue: Mix cornstarch with 1/3 cup water in small saucepan; bring to simmer, whisking occasionally at beginning and more frequently as mixture thickens. When mixture starts to simmer and turn translucent, remove from heat. Let cool while beating egg whites.
Heat oven to 325 degrees. Mix cream of tartar and sugar together. Beat egg whites and vanilla until frothy. Beat in sugar mixture, 1 tablespoon at a time; until sugar is incorporated and mixture forms soft peaks. Add cornstarch mixture, 1 tablespoon at a time; continue to beat meringue to stiff peaks. Remove plastic from filling and return to very low heat during last minute or so of beating meringue (to ensure filling is hot).
Pour filling into pie shell. Using a rubber spatula, immediately distribute meringue evenly around edge then center of pie to keep it from sinking into filling. Make sure meringue attaches to pie crust to prevent shrinking. Use spoon to create peaks all over meringue. Bake pie until meringue is golden brown, about 20 minutes. Transfer to wire rack and cool to room temperature.