Pumpkin Gingerbread with Spiced Buttercream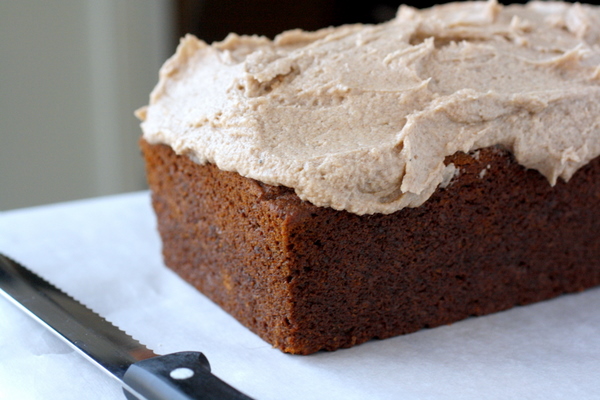 I dare you to look at the spiced buttercream icing slathered on top of this loaf of bread and not want to make this recipe. I have to admit that the icing is what did me in. As soon as I saw it, almost an inch thick, in the pictures of this post by Oh She Glows, I knew I had to make this bread. What can I say, I really love icing. 🙂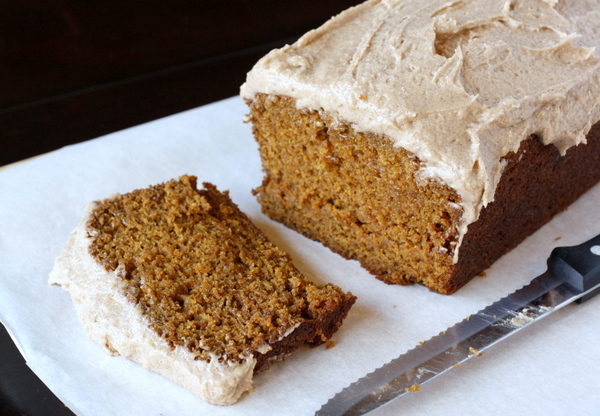 My icing is clearly fairly soft in these pictures. Actually, it's slowly melting off the bread. I was running out of daylight to take pictures and ended up icing the bread before it was completely cool. It made a mess, but still tasted absolutely amazing. 🙂  The bread itself is moist and dense with a great flavor mix of pumpkin and gingerbread. Add the spiced buttercream, which is like Fall in icing form, and you have a winning loaf of bread. This would make a great accompaniment to your Thanksgiving dinner, either as side or as dessert. The bread is good enough that you could even serve it without the icing…but I don't know why you would want to. 🙂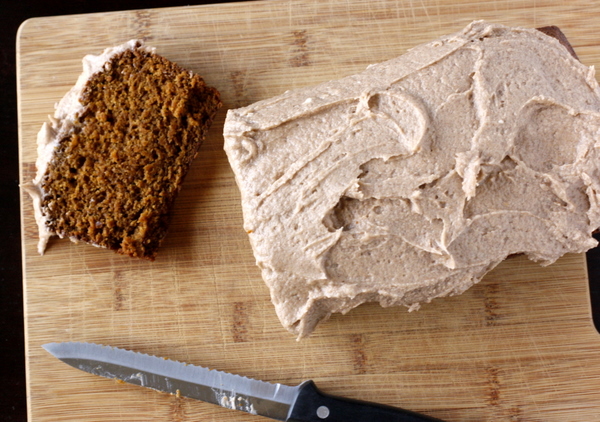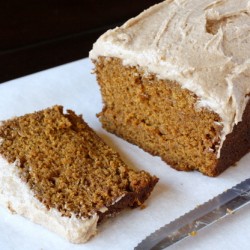 Pumpkin Gingerbread with Spiced Buttercream
Ingredients:
Pumpkin Gingerbread
1 cup canned pumpkin
3 tbsp pure maple syrup
3/4 cup sugar
1/3 cup canola oil
1/4 cup molasses
1 egg
1 2/3 cups unbleached all-purpose flour
1 1/4 tsp baking soda
2 tsp pumpkin pie spice
1 tsp salt
1 tsp baking powder
1/8 tsp ground cloves
1/2 cup toasted chopped walnuts
Spiced Buttercream Icing
1/2 cup butter (1 stick), softened
1 3/4 cup powdered sugar
1 tsp pure vanilla extract
1 Tbsp pumpkin pie spice
1 Tbsp milk or cream (you might need more or less depending on the texture you want.)
Directions:
For the pumpkin gingerbread: Preheat oven to 350 F. Grease a regular sized loaf pan and set aside. Combine the pumpkin, maple syrup, sugar, oil, molasses and egg in a medium-sized mixing bowl and mix well. In a separate bowl, combine the dry ingredients. Add the wet mixture to the dry, and stir well. Stir in the toasted nuts. Pour the batter into the pan, smooth out with wet spoon, and bake for 50-60 minutes or until an inserted toothpick comes out clean.
For the spiced buttercream: In the bowl of an electric mixer, cream the butter until smooth. Add in the sugar, vanilla and pumpkin pie spice and mix well. Add the milk or cream, in small amounts and beat on high until the icing is the consistency you want. Spread on cooled gingerbread.