White Chocolate Chip Cookies with Peppermint Glaze
Day 9 of the 12 Days of Christmas Treats! These white chocolate chip cookies with peppermint glaze are perfect for Christmas! They look so pretty on a cookie tray, and they taste even better than they look.
The cookie itself is a pretty traditional (delicious) chocolate chip cookie that substitutes white chocolate chips for the regular chocolate version. The cookie is then topped with a delicious peppermint glaze. By the time you sprinkle on some chopped up peppermint kisses, the cookie has evolved into something that is absolutely perfect for Christmas.
We loved these cookies and I hope you do too. 🙂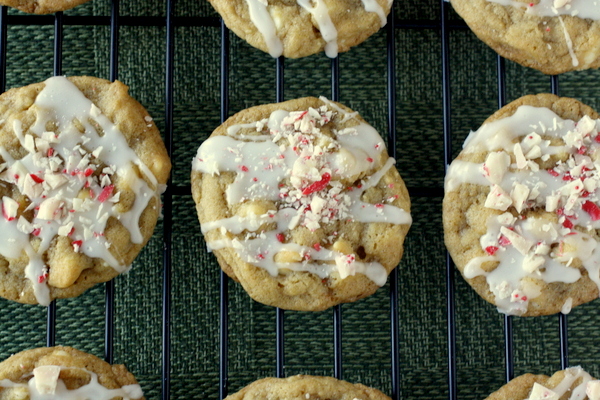 Click here to see the rest of the 12 Days of Christmas Treats 2013. Or you can see all of my Christmas treat recipes from over the years at this Christmas Cookies tag. Enjoy! And, as always, let me know if you try any and how you liked them.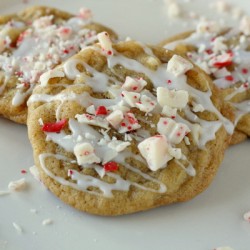 White Chocolate Chip Cookies with Peppermint Glaze
Ingredients:
3 cups all-purpose flour
1 tsp baking soda
1 tsp salt
1 cup (2 sticks) unsalted butter, room temperature
2 cups packed light brown sugar
2 large eggs
2 tsp vanilla extract
12oz white chocolate chips
1 cup confectioners sugar
2 Tbsp water
¼ teaspoon peppermint extract
Candy Cane Hershey's Kisses, roughly chopped, for topping
Directions:
Preheat oven to 350 and line baking sheets with parchment paper.
In a medium sized bow, whisk together the flour, baking soda and salt and set aside. Using an electric mixer, blend butter and sugar until light and fluffy. Add in eggs and vanilla extract until combined. Stir in flour mixture followed by white chocolate chips.
Drop tablespoon size balls onto the baking sheet. Bake for 8-10 minutes, or until edges are lightly brown. Let cool 5 minutes in the cookie sheet before removing to a wire rack to cool completely.
In a small bowl, combine confectioners sugar, water and peppermint extract, stir until blended. Drizzle over cookies. Sprinkle the chopped candy cane kisses on top of the cookies before the icing dries.