Bittersweet Chocolate and Pear Cake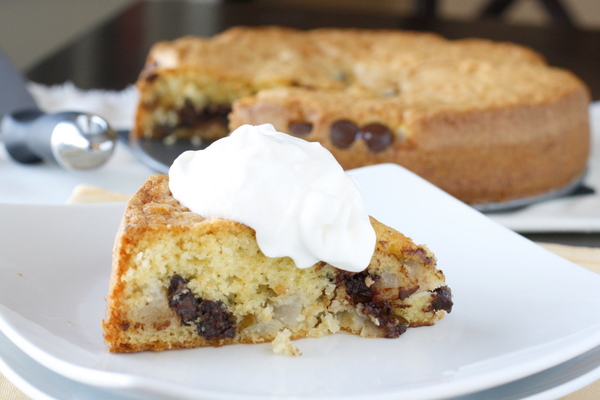 I've got one more chocolatey dessert to share with you before Valentine's Day. This recipe has been on my "to make" list for over a year. I first saw it on Smitten Kitchen and it's actually the reason I bought my springform pan! I have no idea why it took me so long to finally make (meanwhile, that springform pan came in pretty handy for a number of other recipes!), but as soon as I took my first bite, I knew this recipe was worth the wait.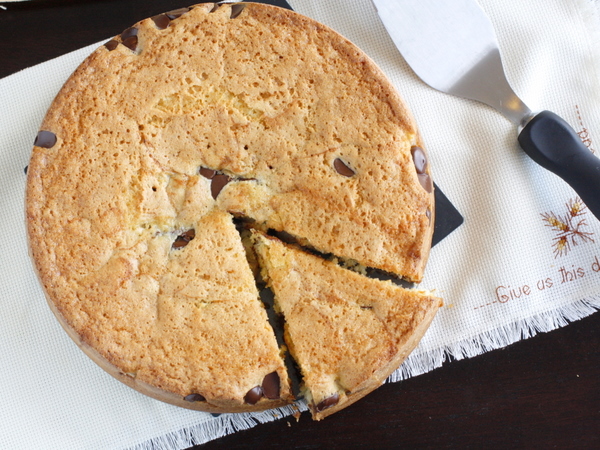 The cake is made with browned butter which gives it a great deep flavor. The chunks of pears and bittersweet chocolate combine perfectly to add a subtle extra sweetness to the already rich cake. For some reason it seems a little more "upscale" than my usual desserts, like it needed a special occasion for me to make it. I finally ended up making this cake after Mike came home from a business trip a few weeks ago and it was the perfect homecoming cake. Served with plenty of lightly sweetened whipped cream, we both loved this cake, and it didn't last long in our house! If you're invited to dinner at our house in the near future, you just may see this cake pop up at the end of the meal. 🙂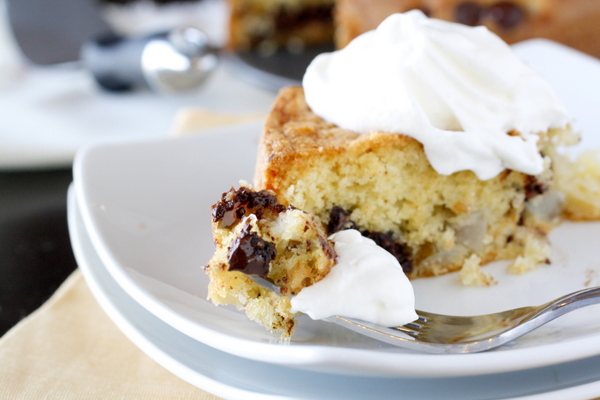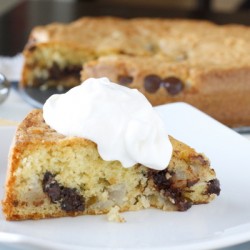 Bittersweet Chocolate and Pear Cake
Ingredients:
1 cup all-purpose flour
1 tablespoon baking powder
1/4 teaspoon salt
3 eggs, at room-temperature
4 ounces (1 stick) unsalted butter
3/4 cup sugar
2 pears, peeled and diced
3/4 cup bittersweet chocolate chunks
Directions:
Preheat the oven to 350°F. Butter and flour a 9-inch springform pan. In a medium sized bowl, sift together the flour, baking powder and salt. In a separate bowl whip the eggs on high speed of an electric mixer (using the whisk attachment) until pale and very thick. This will take 5-10 minutes. Meanwhile, in a medium saucepan, melt the butter and cook until the butter stops sizzling and begins to brown, 6 to 8 minutes. Remove the butter from the heat and keep warm.
Add the sugar to the eggs and whip a few minutes more, just until it begins to lose volume. Stir in the flour mixture and brown butter, alternating between the two and starting and ending with the flour. Using a spatula, gently fold the batter until the ingredients are combined. Be careful not to overmix the batter.
Pour the batter into the prepared pan. Sprinkle the pear and chocolate chunks over the top and bake until the cake is golden brown and springs back to the touch, 40 to 50 minutes.