Black-Bottom Banana Cream Pie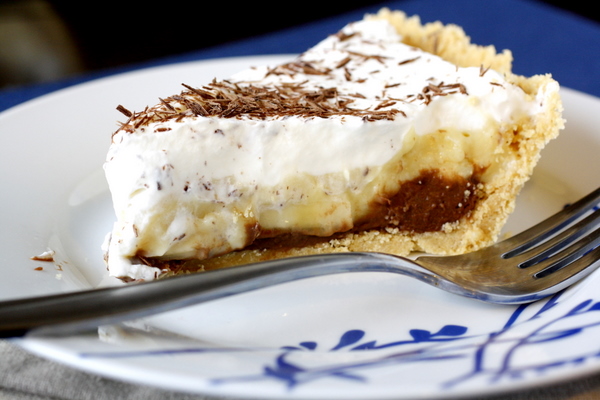 How good does this black-bottom banana cream pie look? As I write this post, I can't help but wish I had another piece sitting in front of me. But alas, we had this pie completely devoured just a few short days after I first made it. (That's probably not something I should admit to, considering it's just the two of us in the house!)  Not only does this pie taste absolutely amazing, but I'm convinced it's pretty much foolproof. I actually had a number of mishaps on my way to the end product. Not only did I end up with huge clumps in my custard filling (not enough whisking!), but I left the salt out of not one, but two components of the pie. I ended up kind of sprinkling the salt back in once I realized my mistake, and surprisingly you couldn't tell the custard was lumpy at all once it was combined with everything else. In short, I'm convinced you can't go wrong with this recipe. It's cool and creamy, looks impressive, and it tastes like chocolate covered bananas combined with cookies. Yum! 🙂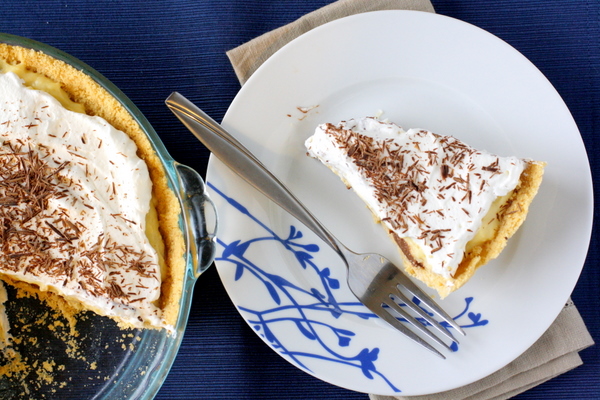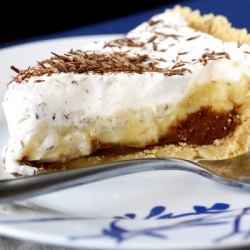 Black-Bottom Banana Cream Pie
Ingredients:
2 boxes (5.3 oz each) shortbread cookies
1/4 tsp salt
5 Tbsp unsalted butter, 3 Tbsp melted and 2 Tbsp cold
3 oz bittersweet chocolate, divided
2 cups whole milk
1/2 cup granulated sugar
1/4 cup cornstarch
4 large egg yolks
3 tsp vanilla, divided
1 cup heavy cream, chilled
2 large bananas
1 Tbsp confectioners' sugar
Directions:
Place the shortbread cookies, along with a pinch of salt, into the bowl of a food processor. Process in long pulses until finely ground and beginning to stick to the sides. Add the melted butter and pulse just until incorporated. Transfer the crumbs to a 9-inch pie plate and press evenly into the bottom and up the sides. Place the pie shell in the freezer until needed.
Coarsely chop 2 oz of the chocolate and set aside in a small bowl. In a heavy saucepan, whisk together the milk, granulated sugar, cornstarch and remaining salt. Turn the heat to medium-high and whisk in the egg yolks. Continue whisking until the custard boils and is very thick, about 5 minutes. Remove the custard from the heat. Immediately measure out 1/2 cup and add to the bowl of chocolate. Let sit while you whisk the remaining 2 Tbsp of cold butter into the custard still in the saucepan. Stir 2 tsp of vanilla into the saucepan and transfer to a heatproof bowl. Refrigerate until well chilled, stirring occasionally, about 2 hours.
Meanwhile, stir the chocolate and custard together in the small bowl. Stir in 1 Tbsp of cream and 1 tsp vanilla. Remove the pie shell from the freezer and spread the chocolate custard across the bottom. Refrigerate until firm.
Cut the bananas into 1/4 inch slices and layer across the chocolate custard. Spoon the vanilla custard on top of the bananas and smooth the top. Refrigerate 2 hours, or until set.
Whip the remaining cream with the confectioners' sugar until it forms soft peaks. Spread on top of the custard and refrigerate until ready to serve. Before serving, use a vegetable peeler to shave curls off of the remaining 1 oz of chocolate onto the top of the pie.
from Rachael Ray Magazine, September 2011