Roasted Garlic, Jalapeno and Feta Dip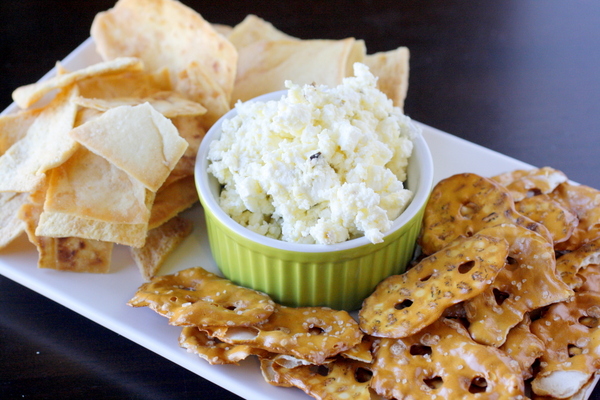 Beware: this dip is addicting. At first glance I wasn't sure I would like it. I'm not a huge fan of feta cheese, and jalapenos aren't normally my thing. But Jessica (from How Sweet It Is) raved about it, so I decided to try it for one of Mike's work potlucks. When in doubt, try out a new recipe on a group of people you don't know, right? Lucky for me, it turned out great. The tangy lemon and the kick of the jalapeno peppers really gave this dip a wonderful flavor. And if you serve it at room temperature, it becomes deliciously creamy. I served it with pretzel crisps and pita chips, but I think it would be wondeful served with fresh bread, warm from the oven, or as a sandwich spread. I'll be trying both of those ideas out next time I make this dip!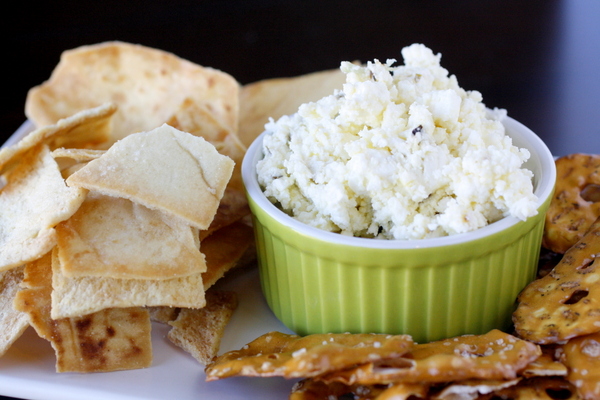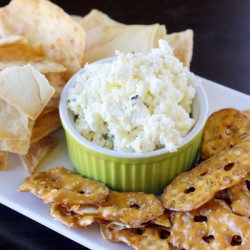 Roasted Garlic, Jalapeno and Feta Dip
Ingredients:
2 bricks of feta cheese, 8 ounces each
3 jalapeno peppers
1/4 cup olive oil + 1 tablespoon
1 head garlic
the juice of half a lemon
the zest of half a lemon
salt and pepper
Directions:
Preheat oven to 400 degrees. Chop the top off the garlic bulb and drizzle with olive oil. Wrap it in foil and roast for 25-30 minutes, or until garlic is soft. At the same time, brush the jalapenos with olive oil and sprinkle with salt and pepper. Roast them with the garlic just until charred. (I just peeked at them every few minutes or so). Remove both from oven and let cool. Remove the jalapeno skins, cut in half and discard the seeds, then dice.
In a large bowl, crumble the feta bricks. Add the diced jalapenos, the zest of half a lemon, and the juice of half a lemon. Squeeze the roasted garlic out of the bulb directly into the feta. Add 1/4 cup of olive oil and mash with a fork. Taste the feta and season with salt and pepper or extra lemon juice or olive oil. Serve with pita chips, warm pita or naan, or spread it on sandwiches. Store it in the fridge for up to one week. It is best served at room temperature.